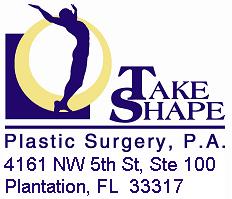 Now is the time to prepare for the beach with laser hair removal at Take Shape Plastic Surgery, PA.
Fort Lauderdale, FL (PRWEB) April 30, 2012
Splashing into summer and revealing one's beach body, leaves one wanting to look flawless. However, the tedium of getting rid of unwanted hair can prove increasingly annoying, at best. In addition to the many aesthetic surgeries at Take Shape Plastic Surgery, PA, they also offer a cost-effective, easy, quick, reliable, and long-term solution for their patients: laser hair removal.
The main benefits of laser over electrolysis, waxing, and tweezing are: larger areas of the body can be treated with relatively less discomfort; each session is fast with long-lasting results; and the procedure can be performed on any targeted area of the body (except the eyes) for the desired result. Because Take Shape Plastic Surgery, PA provides laser hair removal under physician supervision, they can offer their patients anesthetic creams or injectible nerve blocks prior to treatment. In contrast to electrolysis, the laser hair removal for an entire back of hair takes about one-tenth the time.
They have found the typical areas of treatment for women to be the upper lip, chin, underarms, bikini line, and legs. For men, it is usually the arms, shoulders, back, chest, and abdomen. More importantly, the benefits of laser far outweigh the risks as long as treatments are administered by a physician's assistant or a licensed, certified medical electrologist (CME) under a physician's supervision. In addition, patients with excessive hair growth caused by certain medical conditions can also benefit from laser hair removal.
Education of their patients is their primary concern at Take Shape Plastic Surgery, PA, and as such, they advise each patient of the risk involved with laser hair removal and the post-procedure routine. On very rare occasions, side effects may occur, though only temporarily. These include: blisters; burns; and temporary pigmentary changes of the skin. Factors increasing these risks are the amount of melanin pigment within the skin epidermis, the type of laser used, and of course, the skill level of the person administering the laser. Because they have a licensed physician's assistant on staff to perform laser hair removal, they have no reported incidences of injury, damage, or side effects.
During the actual laser hair removal session at Take Shape Plastic Surgery, PA, they give their patients protective eye goggles. The procedure is achieved by delivering a pulse of laser to target specifically the unwanted hair follicle. The pulse is delivered through a hand held piece attached to a laser console. They use a very powerful diode laser (800 nm) that is proven useful in treating a wide variety of hair types and skin tones.
Because hair follicles are always in various growth cycles, they have found their patients typically undergo three to six treatments to achieve the desired long-term benefit. Age, ethnicity, weight, hormones, diet, medication, and metabolism all play a part in determining the exact number of sessions. To maximize benefits of each session, they suggest these pre-treatment tips: avoid foods with beta-carotene because it changes the skin epidermis color thus interfering with treatment and increasing risk of injury; shave before each treatment; stop bleaching or plucking at least two weeks before treatment; and avoid treatment if you have a sunburn. It is important to note that platinum blonde and grey hair generally do not respond to laser hair removal. Post-treatment, they recommend using sun block with an SPF of 30 or greater and using a loofah to help remove shedding hairs that will continue to fall (usually up to three weeks after treatment).
For patients considering or currently undergoing laser hair removal, they advise an effective sun protection regimen for the success of treatments. The main reason for this is that with tanned skin, there is a greater amount of melanin within the epidermis. Rather than going below the epidermis to the hair follicle, the laser will target the surface melanin instead, thus increasing the chance of injury. As a rule, the lighter the skin tone, the less chance of damage.
There are alternatives to laser hair removal. Care must be taken when seeking a 'deal' or 'quick fix'. Though the risks to the procedure may be rare and temporary, they increase exponentially when performed by someone not as skilled, trained, or equipped to treat one's particular hair type or skin tone. Unfortunately, there are many who are undertrained in performing procedures best left to the experts. One should do their homework. Being referred by a satisfied patient or a qualified medical professional is best.
Take Shape Plastic Surgery, PA offers free consultations. They welcome those interested to visit their medispa. They are also proud to have a Medicare-certified, state-licensed and nationally-accredited, ambulatory surgical center for more extensive procedures. Those interested can check out their website at: http://www.takeshape.info, or call 954-585-3800 to schedule an appointment to help accomplish their individual goals.