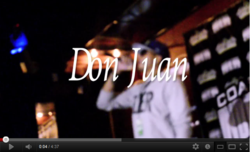 Miami, FL (PRWEB) April 29, 2012
Hip hop artist Don Juan recently released the official video of his winning performance of his single "Cup Full of That" in February's Coast 2 Coast industry mixer in NYC. Coast 2 Coast Video Distribution presents the project, which was was shot and edited by DoloFilmz, Inc.
Don Juan is a 19-year-old MC out of Elizabeth, NJ. Though he's young, he got serious about his music career at around 17 and has been working as an independent artist since then. Don Juan draws his influence and inspiration from his home city. Seeing the pain and struggle people suffer through made him want more for himself, and made him into the man he is today. He states "Music saved my life—I mean, I don't know where I would be without it. I'm just a youngin on his grind, turning my dreams into reality."
"Cup Full of That" is the first single from his upcoming mixtape, "Welcome to Greatness." It is a party track that retains the smooth and grimy feel that characterizes Don Juan's style. "Welcome to Greatness" is anticipated to drop in Fall 2012.
Don Juan's performance of "Cup Full of That" is available to view at http://www.youtube.com/watch?v=VN_yM7maEHM&feature=youtu.be