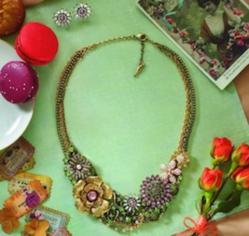 Feminine, fresh and floral
with a modern edge are
very Chloe + Isabel.
Seattle, WA (PRWEB) April 30, 2012
Inspired by vintage castings and the ladylike looks of the 1940s Hollywood, yet modernized with an unexpected mix of colors and crystals, Chloe and Isabel, just released their new spring line "Garden Party" This new spring collection is feminine, floral and vintage - reminiscent of old photographs of dressed-up women surrounded by colorful spring flowers.
C + I head jewelry designer Casey Driskill comments, "The colors in 'Garden Party' give it a softer feel than many of our other collections. It's very springy and vibrant." When asked about the choice of colors and materials she adds, "Light green and pink crystals were a biggest color influences. It was important to hone in on colors that were used in vintage wallpapers and china. Also, we wanted to explore metals with an aged look but keep in mind there always needs to be a ladylike touch in our jewelry. That is where the colored pearls and stones came into play."
Some of the pieces have a very "eclectic" style with a combination of colored stones, vintage looking metals and a modern look. The Multi-Charm Garden necklace features a garden party of crystal and pearl covered vintage castings and draping chains which makes a showstopping statement necklace. Also, released is the Deco Vintage Bracelet which is a glam mixture of crystal covered vintage castings.
Merchandiser Anne Hess comments, "Garden Party is a fresh and charming collection for the spring. In addition to the amazing new 'Garden Party' jewelry, Chloe and Isabel, has also released other exciting collections this spring including Turquoise Nation, modern and fresh turquoise pieces which receive attention whenever I wear them and Corally Yours, which is inspired by organic, coral reefs and uses semi-precious coral stones adding a pop of vibrant color."
About the Company: Chloe + Isabel is an innovative, new jewelry company sold through socially forward e-boutiques and trunk shows. The business has been recognized in Business Insider's Top 20 Start-ups for 2011. Publications such as Lucky, Vogue, Glamour, US Weekly and others have featured the jewelry. Anne Hess is a merchandiser with Chloe + Isabel. She has a background in sales, marketing and advertising for over 20 years. She is committed to assisting women achieve their financial and personal goals through becoming mini-entrepreneurs.