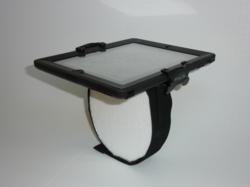 "Many of our customers have expressed a desire to keep their iPad in their everyday case when they go flying. The MyBigclip fills that need without compromising the security of the original MyClip Kneeboard." Jim Peters V.P.
Thousand Oaks, California (PRWEB) April 30, 2012
MyClip Inc announces the production of the MyBigclip kneeboard for pilots. The MyBigclip uses the same high quality leg strap as the popular MyClip Kneeboard but incorporates a larger clip to accommodate most iPad cases on the market today. With a gap of one inch; the MyBigclip can hold a naked iPad (or similar tablet) or one wrapped comfortably in a leather folio. Soft rubber feet protect the face of the iPad from scuffs and scratches. The larger clip of the MyBigclip also works on tablets like the Acer Iconia.