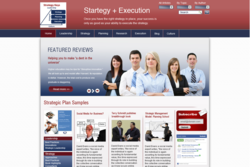 Highland, UT (PRWEB) April 30, 2012
The founder of Strategy-Keys.com shared that, "major updates are being rolled out on Strategy-Keys.com in the next 30-60 days. It will be more social, and have a cleaner look, clearer knowledge categories, and improved searching and sorting features."
What is the Purpose of Strategy-Keys.com?
"The purpose of strategy-keys.com is to provide deep insights best practices, and innovations in strategy and execution. Nothing is more exciting than learning and helping others to learn how to envision and create a better future for others. There are no magic pills or surefire formulas to do this."
Objective is To Create More Interest in Strategy
"One of our objectives is to generated broader interest in the field of strategy and execution. If you think about it, the keys to succeeding in anything in life depend on a well thought out strategy, and an ongoing passion for implementing the strategy. Without a strategy and action, what do you have? To succeed, everyone needs to get smarter in these areas."
We Plan to be a Knowledge Aggregator
"Another objective we have is to become a major knowledge aggregator of strategy and execution knowledge. We are continuing to share insights from the best books and articles.. We are attending and reporting on insights from conferences. For instance, this month we are attending the annual conference of the Association of Strategic Planning in Chicago, and the Chief Strategy Officer Summit in San Francisco. We are interview key players in field. And finally, will continue to provide our own insights in strategy & execution."
Our Key Topics of Focus
"The following are examples of major topics we are focused on:

Leadership: Creating strategic and high-performance growth environments
Strategy: Analyzing and developing effective strategies
Planning: Developing plans based on agile principles and methods
Execution: Implementing plans in a way that optimizes customer satisfaction & learning
Research: Researching knowledge resources that with strategy development, planning & execution."
Abundance vs. Competitive Approach to Strategy
"Moving forward, we very interested in finding and sharing approaches and tools that support an an abundance mindset. Stephen R. Covey teaches us about the abundance mentality – which is that there are enough resources for everyone to succeed. We summarized the 'Blue Ocean Strategy' approach to strategy which is based on the premise that there are unknown markets where profitable opportunities abound. There are been a strong interest in blue ocean strategy, innovation and similar approaches"
"Business strategy has traditionally defined narrowed as 'gaining a competitive advantage.' This is based on the premise that someone wins and someone loses.. Many of the approaches and tools have been developed based on competitive strategy. – which we review. The scarcity mindset (win at the expense of others) is founded on the belief some has to lose for someone else to win.
How are we Different?
"We aren't a consulting company and currently don't produce our own products. Our passion is to be a knowledge aggregator. We make our money through advertising a range of strategy & execution offerings that we can get excited about and believe can make a big difference in the field. For instance, Alan Leeds with Y-Change (phone:510-573-1582) has developed, over a ten year period, software that has the potential to substantively helps organizations improve their ability to implement their strategies."