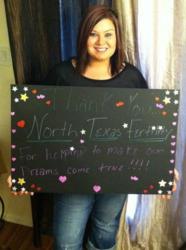 Dallas, TX (PRWEB) April 30, 2012
North Texas Fertility is proud to announce the recipients of their 2012 "We're In This Together" in vitro Fertilization (IVF) Donation. Staff Sergeant Martin Bilby and his wife, Nicholl, of Fort Hood, TX, were notified this past Friday that they were the recipients of the fertility program's first annual donation.
North Texas Fertility, located in Desoto, TX, offered this free treatment in honor of National Infertility Awareness Week® (April 22-28th). To be considered for the free cycle, couples completed an application and wrote a short essay that described their struggle to conceive. Applications were received from all over the state.
"It was such a difficult decision selecting who would receive the IVF donation. But in the end, we were very excited to offer the treatment to Marty and Nicholl. Given the fact that 1 in 8 couples are affected by infertility, we are hoping that this IVF donation will help put a spotlight on infertility. So many couples struggle with these issues in silence; we want to show these families, along with others in our community, that we are in this together," said Sunday Pirkle, Ph.D., CEO and Scientific Director of North Texas Fertility.
"Dealing with infertility is an uphill battle that can be very lonely, especially in the military community where it is quite uncommon to be married without children," said Nicholl, who is also an army veteran and is currently finishing nursing school. "A lot of the military medical facilities lack the technology and expertise to deal with issues pertaining to infertility. Those that do often have over a year waiting list to get treatment. This opportunity given to us by North Texas Fertility is a gift that is unheard of these days; a medical service for free? That almost never happens!"
The struggle with infertility for Marty and Nicholl began about 8 years ago, when they realized that something was wrong. Their doctors informed them that they would have trouble getting pregnant on their own and that they should consider fertility treatments. But with the average cost of treatments ranging from $10,000 - $15,000, the couple felt that adoption might be their best option. They thrilled to learn in 2008 their prayers would be answered when they were matched for an adoption. However, their joy was short-lived. "Emiley was born on December 31, 2008," Nicholl remembers. "She was 10 weeks premature so she lived her short life in an incubator surrounded by a bubble of love, joy, and prayers. She was 2 pounds 5 ounces, and 14 inches. The deck was stacked against Emiley from the start."
Marty and Nicholl were determined to fight every obstacle that got in our way. Unfortunately, the baby was not strong enough to overcome the health problems that she had to face. On January 13, 2009, little Emiley succumbed to Hypoxic Respiratory Failure. "It took us quite some time to process the loss of Emiley emotionally but I think we have made our peace with it. We have handed our pain from losing her over to God," Nicholl said.
Marty and Nicholl found out about North Texas Fertility through the clinic's Facebook page, and soon thereafter, Nicholl drove the 2.5 hours to Desoto, TX to attend an informational seminar. It was there that she found out that the clinic would be offering a free infertility treatment, to be given away during National Infertility Awareness Week. Although she felt it was a long shot, she submitted her application and essay, and waited for 6 weeks, Friday, April 27th, to find out if she and Marty would be given the opportunity to start their family.
"On Friday, we were to make the announcement at 10:30 on both our Facebook page and our website," says Dr. Pirkle. "The entire staff was crammed into my office, and I think all of us had butterflies as we watched the clock approach the announcement time. There was not a dry eye in the room when we saw Nicholl's response."
Dr. Pirkle admits that selecting a couple for the treatment was not an easy task. She enlisted the help of the clinic's infertility counselor and medical director to make the final decision. "There were so many families, so many stories," Dr. Pirkle stated. "I wish we could help them all. But we'll certainly do another donation – it was just too wonderful an experience not to do it again. We are already planning the one for next year!"
As for the lucky couple, they will most likely begin the process for the IVF treatment this summer, after Marty returns home from Afghanistan. And how do they feel about receiving the treatment? Nicholl states, "We are more grateful than words can express."
National Infertility Awareness Week® (NIAW), a movement founded by RESOLVE: The National Infertility Association raises awareness about the disease of infertility and encourages the public to take charge of their reproductive health. Each year the infertility community comes together for one week to focus on ensuring that people trying to conceive know the guidelines for seeing a specialist when they are trying to conceive; enhancing public understanding that infertility is a disease that needs and deserves attention; and educating legislators about the disease of infertility and how it impacts people in their state. In 2010 NIAW became a federally recognized health observance by the Department of Health and Human Services. For more information, visit http://www.resolve.org/takecharge.
About North Texas Fertility
North Texas Fertility is a full-service laboratory located in Desoto, TX offering both testing and treatment for infertility. The program is owned and operated by scientific and medical professionals with almost 30 years of combined experience in the reproductive endocrinology and infertility fields. In business since 2009, North Texas Fertility performs a variety of procedures including: in vitro fertilization (IVF), intracytoplasmic sperm injection (ICSI), embryo culture, and cryopreservation of embryos, eggs and sperm (North Texas Cryobank). Additionally, North Texas Fertility is able to assist in the case of donor eggs, donor sperm and donor embryos. The program is proud to offer low-cost IVF and related services along with providing a teacher and military discount.