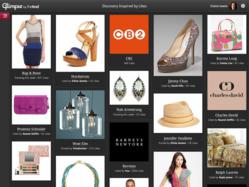 San Francisco, Calif. (PRWEB) April 30, 2012
TheFind (http://www.thefind.com), a mobile, social and tablet commerce innovator and shopping search engine, today launched Glimpse, a new Facebook shopping app that uses Facebook Like data from across the web, to instantly personalize and curate a stream of fashion and design items that are trending, tailored to the tastes and preferences of an individual and their community of Facebook friends. Think of it as a retail store window decorated with products you want curated by the people who know your tastes. The Glimpse experience incorporates the investments brands and stores have made in building fans on Facebook and in adding Facebook social plugins to their eCommerce web sites.
"Search is a task, whereas discovering things you like is fun, and Glimpse is all about shopping just for fun. What makes Glimpse a potential game changer is that it steers the retail industry away from the diminishing returns of search and price comparison towards growth opportunities in merchandizing soft goods in a way that leverages their existing investments in Facebook's platform," said Siva Kumar, CEO of TheFind. "More than 100 million products online have 'Like' buttons, with the heaviest concentration of Liked items in fashion and design products. The data now exists to instantly personalize an interesting shopping experience for trending soft goods and present them in a format that is both truly social and entertaining."
What makes Glimpse unique is that it is built on top of TheFind's one-of-a-kind shopping index of more than 500,000 stores and 500 million products, gleaned through a combination of patented web crawling and merchant data feeds. When combined with the equally rich data set from Facebook's Open Graph, the result is a unique experience that lets shoppers browse the most 'Liked' and trending items – by style, brand, or retailer. The resulting real-time barometer for style and fashion enables shoppers to discover those new and popular items that are geared towards their own personal tastes.
With Glimpse, online consumers can use the ubiquitous 'Like' button as a bookmarking tool to create their own custom catalogs to share with friends or store privately and they can easily browse the products, stores and labels their friends have 'Liked,' something that is particularly useful when it comes to finding inspired gifts for others. Since Glimpse is built on TheFind's index of products for sale, every item that appears in Glimpse is also 100% shoppable.
"The beauty of the Open Graph is that consumers have demonstrated their willingness to share their individual preferences as defined by their use of the 'Like' button. This rich data set of social signals, when combined with other big data sources in vertical search, presents many opportunities to create and deliver compelling new commerce experiences built on the Facebook platform," continued Kumar.
Glimpse by TheFind is a free app available on Facebook through invitation and will soon be available as a free tablet and smartphone app using Facebook Connect.
About TheFind
TheFind's patented search, browse and discovery technology is expanding the eCommerce landscape through social, mobile and tablet commerce innovations. These include the Facebook app Glimpse by TheFind, TheFind Mobile barcode scanning app for smartphones, the popular tablet app Catalogue by TheFind, along with the comprehensive shopping search engine, TheFind.com. Ranked number 12 on the 2010 Inc. 500 list of fastest growing private companies, TheFind was founded in 2005, venture funded by Bain Capital Ventures, Lightspeed Venture Partners and Redpoint Ventures and is a San Francisco and Silicon Valley-based company.