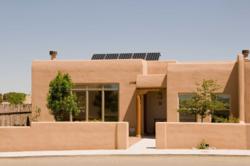 Renaissance Builders of Santa Fe, New Mexico are building the state of the art Solar Homes, bringing together energy conservation and Solar Electric generation with Solar Panels on the roof
Santa Fe, New Mexico (PRWEB) April 30, 2012
Natural Homes and Renaissance Builders of Santa Fe, New Mexico are building the state of the art Solar Homes, bringing together energy conservation and Solar Electric generation with Solar Panels on the roof. This combination has resulted in homes with a net annual utility bill of around zero. With five new homes in construction or final planning stages, these new net Zero Energy Homes cost roughly what a conventional home costs and come with State and Federal tax credits, some as high as $20,000.
The State of New Mexico developed the BGNM program (Build Green New Mexico), which is similar to the federal LEED program (Leadership in Energy and Environmental Design) designed around a super insulated building envelope, Heat Recovery Ventilation System, efficient lighting and highly efficient appliances and equipment. The base house saves around half the energy compared to a modern home built to the present code.
Renaissance Builders than adds between 1.7 to 5 Kilowatts of Solar Panels on the roof further reducing the energy used by the home. Some families that have moved into these homes are very aware of their energy use and have operated their home at net zero annual energy cost. At the time of the Real Estate crash of 2007, natural gas cost roughly twice what it does today. Adding high energy costs to mortgage costs was too much for many home owners to pay and tripped many of them into foreclosure setting off the cascade of events leading to the real estate collapse we are still dealing with today. Many banks have recognized that a home with relatively stable energy costs is a good investment and can eliminate one possible trigger of economic problems, making these homes more secure collateral for a bank financing home mortgages.
New Mexico Bank and Trust recently closed on a construction loan for a new Solar Home to be built in the La Tierra area of Santa Fe, finding that even in this market, this energy efficient home appraised for substantially more than it is being built for. Even though there is still significant competition between existing homes, there is no competition for the super-energy efficient homes that Renaissance Builders is offering. Alan Hoffman of Natural Homes of Logic Real Estate said "We have been very pleased with the number of people that recognize that insulating themselves from wildly fluctuating energy costs is a good decision for their family."