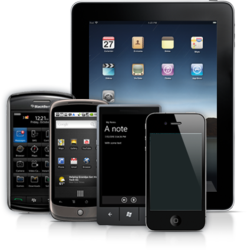 Las Vegas, NV (PRWEB) April 30, 2012
Because of the increase in mobile traffic, LeadsMarket.com has decided to create a mobile centered offer for its affiliates.
LeadsMarket.com COO, Frank Kasimov, said the following about the launch of its mobile offer:
"To understand the importance of launching a mobile-focused offer, let's review some statistics from the report titled 'The State of Mobile Search Advertising in the US' dated March 2012.

Currently about 12% of all internet traffic in the United States comes from mobile devices that include smartphones and tablets.
By the end of 2012, approximately 25% of all traffic will be coming from mobile devices.
Smartphones have 50% penetration in the United States mobile phone market.
Tablets will account for around 45% of all mobile clicks by the end of 2012.
Average click through rate on smartphones and tablets is higher than on desktops and laptops.
Cost of clicks on tablets and smartphones are on average cheaper than on desktops and laptops.
Average cost per conversion from smartphone traffic is cheaper than from desktops and laptops.
Text messages receive 100% open rate. Good luck getting these kind of open rates with email marketing.
According to Google, more than half of searches in 2013 will come from mobile devices."
Typical payday loan affiliate network caters only to desktop users and don't optimize their websites to be mobile friendly.
To improve consumers' mobile experience and increase affiliates' revenue LeadsMarket.com has taken several steps:
1) All of the LeadsMarket.com consumer websites are optimized to increase conversions from smartphone and tablet users.
2) LeadsMarket.com's proprietary technology allows automatic adjustment of website dimensions to cater optimal user experience on desktops, laptops, tablets, and smartphones without having to redirect the consumer to a different URL.
To learn more about the LeadsMarket.com mobile offer, visit LeadsMarket.com