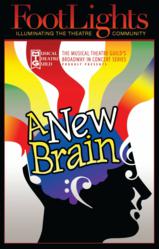 "Fostering audiences and encouraging interest in experiencing theatre from the traditional to the more intimate settings is FootLights' core purpose and we are proud to support the California theatre community."
Los Angeles, California (PRWEB) April 30, 2012
Footlights Publishing Inc., the leading publisher of full service cross-marketed theatre programs in California, today announced it is making significant headway in three California theatre markets.
The publisher added four theatre companies to its distribution network in the South Bay, Long Beach and San Gabriel Valley areas of Los Angeles in April. In addition, FootLights increased its distribution in the San Francisco Bay Area by adding 11 theatres in 2012.
Theatre companies joining the FootLights family include International City Theatre (ITC), Garage Theatre, Long Beach Playhouse and the Inland Valley Repertory in Covina. FootLights now serves 22 theatres in the San Francisco Bay area, which is double the number from 2011.
"It has always been FootLights' mission to raise the profile of California's theatres," says Peter Finlayson, publisher and CEO of FootLights Publishing, Inc. "Our continued growth indicates that theatres trust us to produce a high quality playbill that enhances their company's professionalism and ultimately improves their marketability."
Footlights has been published since 2006 and provides affordable, fully customizable playbills that offer local theatre insights and greater exposure to theatre audiences throughout California. While the publication currently serves primarily small-to-medium sized theatres, the growth is trending to cover theatres' of all sizes.
The increase in the number of theatres served comes on the heels of FootLights' expanding support of the emerging Hollywood Fringe Festival due to open on June 14 of this year. Finlayson says that FootLights' continued addition of theatres and its expanding role in the festival is a positive sign for California theatre as well as FootLights.
"Theatre is a reflection of the soul of any community and the depth of opportunity and variety of theatre available throughout California speaks of our cultural diversity," says Finlayson. "Fostering audiences and encouraging interest in experiencing theatre from the traditional to the more intimate settings is FootLights' core purpose and we are proud to support the California theatre community."
About Footlights Publishing
Footlights Publishing, Inc. is the publisher of Footlights theatre programs for theatres of all sizes in California. The mission of Footlights Publishing, Inc. is to "illuminate the theatre community and expand audience interest and participation in California's ever-expanding, diverse, and creative theatres."