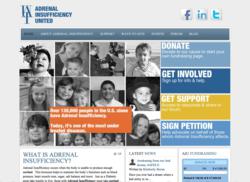 Today, we launch AIUnited.org in honor of those living and suffering with Adrenal Insufficiency, and in memory of those, like Annie Sullivan, who was lost March 25, 2011, two weeks shy of her 8th birthday
Chicago, IL (PRWEB) April 30, 2012
"You have no idea of the impact this can make--the lives we can save! I talk to people every day who are suffering because no one understands and they can't find a doctor who can treat their condition. With this partnership, we can begin to change that," said Jennifer Knapp, Co-Founder and Executive Director of Adrenal Insufficiency United (AIU) of launching the new non-profit and how the social media strategy and technology from SocialRaise, a digital agency for non-profits, can help those affected by Adrenal Insufficiency.
So what is "Adrenal Insufficiency?"
A hormonal condition where the body doesn't produce enough cortisol (the "stress hormone"). Adrenal Insufficiency can be caused by a variety of conditions, resulting in over 130,000 people in the US alone suffering from it. If an adrenal crisis is unrecognized and untreated (or improperly treated) it can result in shock, heart failure, disability—or death.
Unfortunately, too few health care professionals recognize or know how to care for someone with Adrenal Insufficiency.
This is not news to Jennifer and the recently elected Adrenal Insufficiency United Board of Directors: Laura Adderholt, Kirsten Norgaard, Shirley Shipp, John Madderra, Jean Sullivan, Becky Paulson and Kimberly Doran. They are all parents of children with Adrenal Insufficiency who originally went to the web to find information and support. What they discovered were other families and groups of people impacted by the condition struggling to find the same things. What they had all learned—some at the cost of a loved one's life—is that there is a lack of awareness among emergency services and health care professionals about adrenal crisis and no consistent protocols for care.
From these needs, Adrenal Insufficiency United was born.
This team collaborated with other families and regional groups to organize a grassroots, national organization and have recently incorporated as a non-profit, working through the process to achieve their 501(c)3 status. All of this accomplished out of their own time and personal resources while caring for families and working their full-time jobs.
The next challenge for Adrenal Insufficiency United: How do you create national awareness and find support to achieve your mission?
Jennifer was introduced to SocialRaise, a digital agency that provides technology and expertise specifically for non-profits—enabling them to leverage the web and social media to attract and engage support, with built-in constituency relationship management included. Once Jennifer learned about the SocialRaise solution, saw it in action and learned it could launch quickly, she knew it was exactly what Adrenal Insufficiency United needed.
Kevin LaManna, President of SocialRaise, stated, "I am so impressed with everything the Adrenal Insufficiency United team has accomplished so far, especially Jennifer's leadership and passion. We are proud to work with them to help them successfully achieve their goals."
In addition to a new platform to raise awareness, educate and attract supporters, SocialRaise has implemented a robust Constituent Relationship Management (CRM) system that allows Adrenal Insufficiency United to:

Track donations and event/ticket sales to see how much and how frequently supporters give;
Identify who are active members/supporters with their time and expertise;
Provide communication flow and access for Medical Advisors and health care professional participants;
Target various constituents in order to increase communication efficiencies and provide support to those effected by Adrenal Insufficiency; and,
Foster relationships with key donors and volunteers.
"Today, we launch AIUnited.org in honor of those living and suffering with Adrenal Insufficiency, and in memory of those, like Annie Sullivan, who was lost March 25, 2011, two weeks shy of her 8th birthday. We look forward to a time when Adrenal Insufficiency is well known and exemplary care is the norm—and the Adrenal Insufficiency United team will do everything in our power to make that happen," stated Jennifer Knapp.
About Adrenal Insufficiency United
Adrenal Insufficiency United is an organization of concerned family members, friends and affected adults. We at AIU want to work with the Health Care Community to create cohesive and consistent standards of care for all who have adrenal insufficiency. We will do this by supporting each other, raising awareness, working with doctors to individualize care, collaborating with organizations working with AI individuals, and raising funds for desperately needed research.
For more information please contact Jennifer Knapp, Executive Director, at 855.AIUnite (855.248.6483) or contact(at)aiunited(dot)org.
About SocialRaise
SocialRaise is a Chicago-based firm that imagines and creates digital experiences for non-profits focusing on raising funds, raising awareness and raising impact. Working with non-profits of all sizes, SocialRaise designs and implements digital solutions around constituent relationship management, short-term campaigns, capital campaigns, mobile strategy, social media strategy, and donor/ volunteer generation. SocialRaise has a web-based application to manage the solution put in place. From one 'control center', the non-profits can change anything in their solution with a click-of-a-button.
To learn more about SocialRaise , please contact Cassie Dennis, Client Relationship Manager, at 312.577.6952, extension 704 or cassie(dot)dennis(at)socialraise(dot)com.