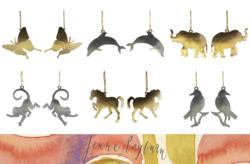 Powerful feminine jewelry created to elegantly express beliefs, aspirations and values, for the ritual of adornment.
Boston, MA (PRWEB) April 30, 2012
Jenne Rayburn, a handcrafted fashion jewelry and accessories brand known for distinctive handcrafted designer jewelry with an original vintage aesthetic, introduces her latest handmade designs. Featuring wildlife jewelry as timeless silhouettes based on folklore, mythology and legend, the Ark Collection strives to connect the wearer to stories of hope and strength, and remind us that every person is uniquely powerful.
Growing up in a home where art and craft were encouraged and enjoyed, this early influence created a lifelong love of folk art and indigenous arts and crafts. "As a child, I had the opportunity to travel extensively with my parents, who loved to explore national parks and local museums. One summer we took a five-week train trip across the United States, another summer was spent in Scandinavia." explains Jenne Rayburn, a metalsmith and the collection's creator. "We always returned home enriched from our travels, with an appreciation and respect for the uniqueness of different cultures, values and points-of view."
The inspiration for Jenne Rayburn's handcrafted jewelry and accessories comes from thinking about the role of cultural narrative in constructing identity. "My process is to create narratives for my work that intertwine ideas about mythology and tradition." said Rayburn. Creating a collection of animal jewelry was a natural evolution of this exploration, because animals play key roles in many culture's creation myths where they are essential to survival, are respected as equals and are meaningful representations of human potential. "Ancient peoples recognized their power to transform nature, and consequently the need to live with balance and harmony, never wasting nature's gifts or taking the natural world for granted." states Rayburn. "Animals became powerful symbols for both the virtuous and malevolent way to live." The Ark Collection strives to reconnect us with that sensibility.
Jenne Rayburn's designs incorporate fine and sterling silver, 18-karat matte gold plated brass, antiqued sterling silver plated brass, and raw brass. Statement jewelry that is versatile and easy to pair with any outfit, The Ark Collection of necklaces, pendants, bracelets, brooches and earrings features bold to petite size charms. "Jewelry is one of the personal touches that makes a woman's outfit truly unique." notes Rayburn. "In designing this collection, I wanted to create a broad range of coordinating imageries and sizes, drawing from cultural myths as diverse as indigenous Americans to Ancient Egypt, Asia and Persia." Each unique jewelry piece is individually made so no two are alike. The handcrafted jewelry comes on custom printed cards that include the story and symbolism of the animal, making it the perfect choice for a unique gift. Retail prices range from $30 to $180.
Visit online to view her other collections http://www.jennerayburn.com
About:
Jenne Rayburn Handcrafted Jewelry and Wearable Art. Jenne Rayburn is a Boston-based jewelry/textile artist who also studied interior design and architecture, and her work evolves from the overlap between architecture, design, technology and art. Jenne is known for her designs made from reusing vintage textiles, findings and components, found while foraging in antique shops and vintage markets. A graduate of the University of Washington where she studied metalsmithing and fiber arts, and of the University of Massachusetts, Amherst with a MS in Design, Jenne has been designing jewelry and apparel for over 20 years. Perpetual curiosity and a passion for experimentation resulted in her first jewelry collection made from etched copper and brilliantly colored enamel. Since then Jenne has created six unique collections that combine careful workmanship with unique materials and designs. It is her hope that the wearers of her pieces will find joy in a delightful artistic statement, and also something that enhances their individuality and confidence. Her work is carried in local galleries and online. Please visit http://www.jennerayburn.com for Jenne Rayburn's online flagship store. For wholesale information, please visit wholesale under CONTACT US.