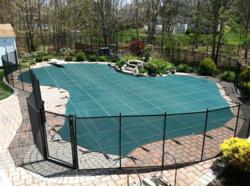 "With Pool Guard's complete pool safety product line up and ASTM certified products. We're able to offer our customers a quality product and expert installation with pool safety fences."
San Antonio, TX (PRWEB) April 30, 2012
Shane Christ, owner of Moosehead Pools, located in San Antonio recently became an authorized Pool Guard pool safety fence dealer for Pool Guard of Texas. Moosehead Pools is a full service pool company specializing in cleaning, maintenance and equipment repair. They service the entire San Antonio metropolitan area.
Families needing pool safety products such as a pool safety fence, pool net, or pool safety cover now will have increased convenience of having a reputable pool safety solution provider servicing their area. Pool Guard Manufacturing is partnering with business owners across North America to increase pool safety for customers, while helping to reduce the number of accidental drownings that occur in residential swimming pools. Accidental drowning is the leading cause of death for children under the age of five years and more than half of all drowning incidents occurred in backyard pools or spas.
Moosehead Pools can now offer its customers a variety of pool safety products designed specifically for their pool. Shane stated, "With Pool Guard's complete pool safety product line up and ASTM certified products. We're able to offer our customers a quality product and expert installation with pool safety fences."
"Pool Guard is proud to be partnering with a quality business such as Moosehead Pools," exclaimed Mike Corkery, President, Pool Guard Manufacturing. "Shane Christ has over six years' experience in the swimming pool industry. In addition he is a father so he clearly understands the need for pool safety for our customers. He is a great example of the type of successful business relationship Pool Guard has established in order to build and maintain a strong network of more than 100 dealers across North America."
About Pool Guard Manufacturing:
Based in Clearwater, Florida, Pool Guard Manufacturing is the worldwide leader in pool safety fences, pool nets, and pool covers since 1997. The manufacturing company supports a worldwide dealer network trained specifically in the skills needed for safe and secure pool barrier installations. Pool Guard can be contacted at (888)876-4005 or by visiting their web site at http://www.poolsafetyfences.com.