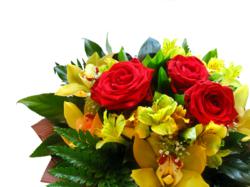 Parents are undoubtedly the unheralded heroes of event planning, from play dates to birthday parties, and we love to see all the Mother's Day entertainment requests coming in.
Springfield, MO (PRWEB) April 30, 2012
Mother's Day only comes around once a year, and entertainment booking agency Gig Salad wants every mother to have a wonderful and memorable day. Using its database of more than 20,000 performers across the US and Canada, they have compiled a list of the most requested entertainers to surprise the special lady in every family. "Every mother deserves to be spoiled often, and because we don't do it nearly enough throughout the year, it's important to really go over the top for Mother's Day," says Gig Salad co-founder Mark Steiner. "If you're trying to find a unique way to surprise the mother in your household, or simply looking for great Mother's Day entertainment ideas, we've done the hard work to bring you some of the best suggestions."
Steiner and the Gig Salad crew searched through their extensive member database of entertainers and party professionals, including everything from Acrobats to Zydeco bands, and tracked past and pending booking requests and schedules to find the most popular ways to surprise mom this year. Although the traditional flower bouquet is not to be overlooked, Gig Salad found that many people are going that extra mile beyond tradition and booking entertainment for their Mother's Day gatherings.
According to Steiner, one category in particular has shown a noticeable increase in requests. "We started getting requests to hire a singing telegram for Mother's Day as early as January of this year, and it has stayed very steady. Singing telegrams are always a great surprise, a classic way to make the day extra special, and many companies will also deliver a small gift or flowers along with the song."
Many view Mother's Day as an opportunity to get the whole family together, and Steiner says that's another trend this year. "Musicians in general are always a popular Mother's Day entertainment selection, and we've seen an increase in requests for bands or guitar players to entertain the group. We're also getting requests for balloon twisters, face painters, and all types of children's entertainment to keep the kids occupied when families are throwing more traditional parties."
This year, some are even taking the special music to the next level. "We've seen a big increase in bookings for a surprise serenade, whether it be a classical string soloist at a restaurant or a 'coincidence' in a public park. We've even had requests for surprise morning serenades to accompany breakfast in bed, a clear sign that some are going all-out to make Mother's Day extra special."
To Steiner, each new entertainment request means another mom with a smile on her face. "Parents are undoubtedly the unheralded heroes of event planning, from play dates to birthday parties, and we love to see all the Mother's Day entertainment requests coming in. It's a good feeling knowing that we've played a part in giving these mothers an extra special and memorable day."
If you still need to book Mother's Day entertainment, Steiner says there is time. "With all our wonderful members across the country, there are plenty of options everywhere to surprise the mother of your household. We get plenty of last-minute requests, so whether you're looking to really surprise her with a singing telegram, a serenade, or if you need entertainment for a family gathering, Gig Salad has you covered."
About Gig Salad
With more than 20,000 entertainers and vendors available for hire across North America, Gig Salad is the place to book entertainment and event services for parties and corporate events. Gig Salad's clients include America's Got Talent, CBS, American Express, Disney, and MTV, in addition to thousands of brides, event planners, parents, and venue owners who use the site to book entertainment.
Based in Springfield, MO and Wilmington, NC, they can be reached at 866-768-GIGS and at gigsalad.com.