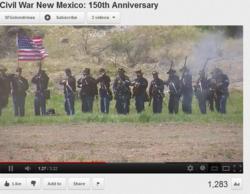 Santa Fe, New Mexico (PRWEB) April 29, 2012
A Civil War event is being held in Santa Fe, NM by local museum, El Rancho de las Golodrinas, to commemorate the 150th anniversary of the Civil War battles that were fought in New Mexico just 22 miles away in the Glorieta, New Mexico area, just east of Santa Fe along I-25. 'Battlefield New Mexico: The Civil War and More' is a Featured Event on the Santa Fe visitor guide website SantaFe.com. The event features military drills, cannon drills, camp life, lectures, demonstrations, music by the Territorial Brass band, Confederate camps, Union camps, reenactments of the battles of Glorieta Pass & Apache Canyon, and much more. The Civil War battle reenactments will be held at 2 p.m each day. People attending the event on May 4th will get to meet the Buffalo Soldiers, famed military soldiers of the Southwest.
Ticket Info: Purchase Tickets Online . Children Under 13: Free, Teens (13-18): $5, Seniors (62+): $5 Adults: $8
About El Rancho de las Golondrinas:
El Rancho de las Golondrinas is a living history museum located on 200 acres in a rural farming valley just south of Santa Fe, New Mexico. The museum, dedicated to the history, heritage and culture of 18th and 19th century New Mexico, opened in 1972. Original colonial buildings on the site date from the early 1700s. In addition, historic buildings from other parts of northern New Mexico have been reconstructed at Las Golondrinas. Villagers clothed in the styles of the times show how life was lived on the frontier in early New Mexico. Special festivals and weekend events offer visitors an in-depth look into the celebrations, music, dance and many other aspects of life in the Spanish, Mexican and Territorial periods of the Southwest.
About SantaFe.com
SantaFe.com provides locals and visitors to Santa Fe alike the most current interactive platform for events, music, arts, business, dining and lifestyle. SantaFe.com is a division of Hutton Broadcasting, located at 2502 C. Camino Entrada, Santa Fe, NM 87507
Contact Information:
Scott Hutton
SantaFe.com / Hutton Broadcasting
http://www.santafe.com
(505) 471-1067 (Media inquiries only, please)