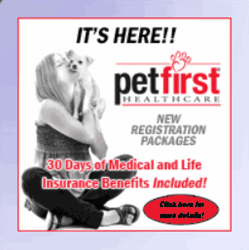 These new benefits provide CKC dog owners protection for accidents and injuries, which are common occurrences for newly purchased pets.
Livingston, LA (PRWEB) April 30, 2012
Continental Kennel Club (CKC) has introduced new membership benefits made available through its partnership with PetFirst Healthcare, which will extend medical and life insurance benefits to puppy and dog owners that register with CKC. The new registration packages were made available to CKC members beginning April 27, 2012.
All CKC registration packages now include 30-day accident coverage up to $2,000 as well as a 30-day life insurance benefit of $300 for each dog at no additional cost when customers registering a dog with CKC use a Value, Deluxe, or Premium Registration Package.
"We are so excited about the new partnership between PetFirst Healthcare and CKC and the value it adds to each registration," said Mike Swain, general manager of CKC. "These new benefits provide CKC dog owners protection for accidents and injuries, which are common occurrences for newly purchased pets."
"Purchasing a puppy is a planned expense; however, many new owners often find themselves at a veterinarian's office dealing with costly medical expenses following an accident or injury they never expected to occur," said Swain. "The insurance benefits will help alleviate these financial burdens."
CKC customers now also have the opportunity purchase pet insurance through PetFirst Healthcare with preferred pricing beyond the initial 30-day coverage period.
"Our goal is for all of our products and services to add long-term value to registering a puppy or dog with CKC and make our registration meaningful and useful throughout the pet's life," said Swain.
CKC's registration provides lifelong benefits because its membership is for the extent of the pet's life with no annual membership renewal fees. CKC also provides informational resources, educational materials, and low-cost registration services. CKC membership now includes access to preferred pricing pet insurance as a membership benefit. Mike Roy, president of CKC, states CKC has strived from its beginning in 1991 to be the best value in the registration industry for its breeders and for its members.
"We have demonstrated our commitment by continuing our no litter fee policy for our breeders, even though even through difficult economic conditions," said Roy. "We are committed to being the best in the business at supporting customers with the highest quality of service and the best values for products and services. The new insurance benefits that are part of our registration packages and the easy access to affordable continued coverage further demonstrate this commitment."
In order to access PetFirst Healthcare insurance benefits and CKC merchandise and products products, or for more information, call 1.800.952.3376, or visit us online at http://www.ckcusa.com.
About Continental Kennel Club
Continental Kennel Club is a global provider of canine registration services and products. Headquartered at 28901 South Frost Road in Livingston, Louisiana 70754, the company has registered millions of dogs worldwide in over 70 countries. Continental Kennel Club was founded in 1991 and recently celebrated its 20th Anniversary.