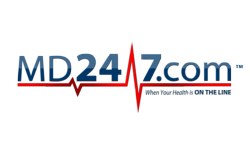 Share your thoughts on surviving a diagnosis of cancer.
(PRWEB) April 30, 2012
Telemedicine specialist MD247 announces the release of a new informational resource for telemedicine program members, as well as people who are not members of the telemedicine program, discussing what to do after a diagnosis of cancer. All of the information being provided by the telemedicine provider is meant to give some common sense answers during trying times, and is not intended as a course of treatment.
As a telemedicine specialist the work of MD247 is typically confined to the medical conditions easily treated over the telephone, where life can get back on track after the telehealth diagnosis. Life is not always made up of easily diagnosed and treated medical conditions, meaning that MD247 needs to step-up our service and provide information which deviates from traditional telemedicine practice and share some hope as well as potential untraditional uses of telemedicine.
In the span of life, the telemedicine provider explains, roughly one-half of all men and one-third of all women will receive a diagnosis of cancer. It is a diagnosis that comes with little warning, meaning that there is a necessity to get life in order and come to terms with the changes that may need to be made. Patients will find some advice, thoughts and encouragement from MD247 regarding a diagnosis of cancer in the article series. The telemedicine provider advises people to take the information for personal use, share the information with friends and family. MD247 also encourages people to feel free to let the telemedicine provider know about some additional tips for coping with the diagnosis of cancer and how others can apply those tips to their personal cancer diagnosis.
Seminole Florida based MD247 (MD 247; MD/247; M.D. 247; MD247.COM) provides discounted telemedicine healthcare services nationwide to families, and discounted wholesale telemedicine healthcare to businesses. MD247 has successfully provided 25,000 people the ability to talk to a doctor twenty-four hours a day, talk to a nurse twenty-four hours a day, receive discounted prescription drugs and receive discounted in-person healthcare services. In addition to discounted healthcare services, MD247 provides support to groups supporting the employment of veterans of the United States Armed Services. MD247 services, as well as informational blogs, can be found for review online at http://www.md247.com.