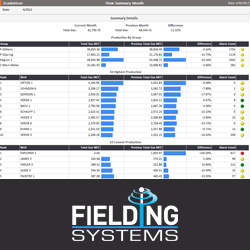 ReportVisor is a game changer in how information is delivered in Oil and Gas
Tampa, FL (PRWEB) April 30, 2012
Today, Fielding Systems announced a new service ReportVisor, a scheduled report processing and delivery solution that utilizes Microsoft's SQL Azure Reporting Services to deliver reports to users via email or file storage. This addition is a significant upgrade to its core upstream oil and gas services FieldVisor and ScadaVisor. Scheduled analytics allows Fielding Systems to provide every customer with the ability schedule and distribute reports to save time while also delivering the information needed by personnel at all levels of the business.
With ReportVisor, any report on the Fielding Systems Platform can easily be scheduled to self-generate and distribute reports on a preset schedule to any individual or groups within an organization. This service saves administrators from having to create and compile reports and also relieves staff from being present to perform these tasks. Companies ensure that Management, Engineers, Field Personnel, and even contractors such as Well Tenders are all provided the information needed for them to efficiently manage their daily or weekly activities. Engineers receive periodic production updates that include real time trend analysis against production decline curves, Enhanced Oil Recovery (EOR) Supervisors receive field-wide production analysis on reservoir performance and E&P Executives receive daily and weekly key performance indicators (KPI) reports providing value through predictive forecasting on production levels.
"We are providing our customers value through information, not data. We are delivering valuable information to our customers so they focus on doing the job of maximizing oil and gas production and not mining for data," said Shawn Cutter, CEO, Fielding Systems. "ReportVisor is a game changer in how information is delivered in Oil and Gas that enhances the way E&P companies will communicate and leverage historical and real time field production data for both internal and external customers."
FieldVisor is an innovative, cloud-based field data capture service for upstream companies in the oil and gas industry that provides E & P's with end to end production operation management where personnel at all levels of an organization have access to the vital well and production data they need, whenever they need it. For both traditional and new shale fields, production engineers and supervisors can get greater control and visibility over what is going on with their operations. ScadaVisor is an innovative, cloud-based SCADA service for upstream and midstream companies in the oil and gas industry with the ability to monitor their assets, analyze production and notify personnel in the event of issues. These two services work together to provide the end to end control for an E&P's production operation. The addition of ReportVisor makes it increasingly simple for users to gain access to production information.
About Fielding Systems
Fielding Systems provides cutting-edge web and cloud based Oil & Gas software solutions for midstream and upstream companies of all sizes. The company's software helps producers gain a competitive advantage by optimizing well production, improving well safety and reducing costly downtime. For more information or a demo of the software, visit http://www.fieldingsystems.com or call 877.987.4823.
All product and company names herein may be trademarks of their registered owners.
For more information, contact:
Fielding Systems, LLC
877-987-4823
info(at)fieldingsystems(dot)com