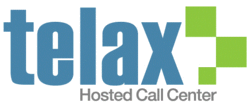 We attract many governmental organizations because we're willing and able to accommodate customizations and integrate with off-the-shelf or in-house software
(PRWEB) April 30, 2012
Telax Hosted Call Center, North America's leader in cloud-based contact center software for government today, announced the addition of a major Canadian city to their client base. A rigorous and competitive RFP process gave Telax the highest ranking across functional, technical, and, organizational criteria, identifying them as ideally suited to meet government requirements.
Telax offers a full service solution that includes on-going management support such as moves, adds, and changes, giving technical and business units tremendous flexibility through enhanced capabilities and improved time management. A key part of Telax's flexibility includes the ability to integrate with citizen service request software, saving agent time and opening the door for self-service functionality for constituents.
"Governments often modify and expand their services to provide more value to their citizens, so it's important for them to use call center software that can easily expand with them," said President of Telax, Mario Perez. "We attract many governmental organizations because we're willing and able to accommodate customizations and integrate with off-the-shelf or in-house software."
The constant pressure to improve service delivery keeps governmental contact centers continually evaluating their people, processes, and technology. To help facilitate these evaluations, Telax clients receive unparalleled business intelligence from complete call recordings and dispositions, real time dashboards as well as customizable reports. These services allow each organization to tap into the information they feel is most important without spending significant amounts of time wading through data.
Visibility, both internally and externally, is mandatory for governments, but reliability is paramount. Telax provides industry leading service availability through unmatched redundancy. Using backup systems at every level of their infrastructure and extensive network monitoring resources, Telax has become the first choice for all levels of North American governments for contact center software.
About Telax Hosted Call Center:
Telax Hosted Call Center is North America's leader in hosted call center solutions. Based in Toronto, Canada, Telax has been providing cloud-based business solutions to prominent public and private sector organizations since 1999. The simplicity delivered by Telax services enables clients like Best Buy, Northrop Grumman, Johnson & Johnson, CI Investments, the Globalive Group of Companies, Health Canada and the GSA, to reduce costs and improve efficiency, so that they can do more with their most critical resource: people. For more information, visit http://www.telax.com. For the latest Telax news, visit http://www.telax.com/category/news.