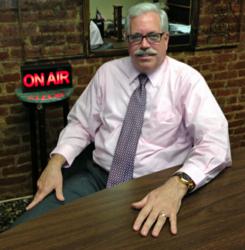 The artwork invites strolling...people walking by...children want to stop by and look at the art in the storefronts
Brooklyn, NY (PRWEB) April 30, 2012
New York real estate attorney Robert Howe - practicing in Bay Ridge Brooklyn for over 30 years and recently named 'Attorney of the Year' by RocketLawyer.com - discovers what 'Pop Up Galleries' are on a recent episode of his BlogTalkRadio show Howe's New York.
On last week's Howe's New York - titled "Dressing Up Commercial Real Estate" - welcomed Melanie Kassar, a real estate broker from Jabour Realty, and Georgine Benvenuto, the owner of Gallery 364. The guests described the recent project in Bay Ridge that sought to decorate empty storefronts by using artwork from the local gallery. Gallery 364 owner Georgine Benvenuto told about how the two local small businesses worked together to "dress up" one of the properties being represented by Jabour Realty.
"The artwork invites strolling...people walking by...children want to stop by and look at the art in the storefronts," said Georgine Benvenuto.
The artwork appearing in the windows has spurred organic business to business growth by allowing the artists work to gain notoriety thus building Gallery 364's brand recognition in the community all while driving potential customers back to Jabour.
"Jabour was very receptive to something that was new and inviting and always tries to embrace something that will help the neighborhood," said Melanie Kassar.
You can tune in to hear robert Howe discuss New York real estate, Bay Ridge small business, community affairs and events as well as politics and find him on Facebook.com/RobertHoweAttorneyAtLaw and Twitter @RobertHowePC.