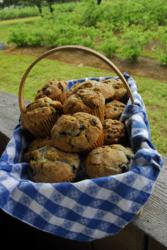 We take the berries and fruits right from the field to the kitchen for our muffins, syrups, jams, fruit butters and sauces.
Lampe, MO (PRWEB) April 30, 2012
A Mother's Day gift means something your mother will love. If good food, bursting with sweetness and the fresh flavor of fruits and berries is that very thing, take a look at the fruity, nutty, berry possibilities from Persimmon Hill Berry Farm.
A "Mom favorite" is the farm's signature Blueberry Thunder Muffins, huge muffins loaded with blueberries and topped with cinnamon-sugar, baked in the kitchen directly adjacent to the blueberry fields. While most of the 40,000 muffins the farm sells each year are enjoyed by visitors at the farm near Branson, thousands are shipped all over the country. The mail-order Thunder Muffins are baked and shipped the same day, a delicious half dozen in a reusable muffin tin.
More gift options include the farm's specialty blueberry syrups: Classic Blueberry, Blueberry Amaretto and a rich Blueberry Maple Syrup, perfect for pancakes or waffles, over ice cream, or as a dessert drizzle over cheesecake or pound cake. The syrups are available individually or as a gift set with all three in a wooden gift crate.
The grilling mom will enjoy the farm's award-winning Blueberry, Blackberry and Raspberry BBQ Sauces, and everyone can find favorites in the selection of jams and butters. Flavors include classic favorites blueberry, blackberry, raspberry and strawberry, all full of berries and rich berry flavor, as well as specialties such as Strawberry Rhubarb Jam, Gooseberry Walnut Jam and a combination blueberry, gooseberry, black walnut jam called Nutty Blue Goose. The product line includes 26 jams, sauces, syrups and butters.
The secret to the true berry flavors in the Persimmon Hill products is that berries are always the number one ingredient and the processing is done artisanal style, in small batches to avoid overcooking, say farm owners Earnie and Martha Bohner. The jars are hand-poured with great attention to detail, so the premium taste is maintained in every jar – tastes Mom, or anyone, will appreciate.
Syrups, jams, butters, sauces, muffins and more are available through the farm's website, http://www.persimmonhill.com or through the order line 800-333-4159.