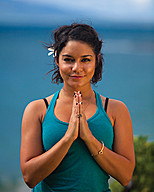 Maui, Hawaii (PRWEB) April 30, 2012
When students spend time with renowned Ashtanga Yoga master David Swenson they come away awe-inspired and not just because he's teaching them one of the more authentic forms of yoga.
For Swenson, who began his practice with the great Ashtanga master K. Pattabhi Jois in 1973, what excites him most—and what he loves to impart to his students--is the fluid, dynamic nature of the practice.
"The flowing rhythm linked to the breath, it just bit me. It was like coming home," says Swenson about discovering this form of yoga. "It gave me the energy and strength I hadn't felt from other forms of yoga. It's not just about how we put our bodies into shape, it's how we interact with each other as human beings and how we interact with the environment around us."
Swenson and his wife, Shelly Washington, who also studied with K. Pattabhi Jois in Mysore, India, return to Four Seasons Resort Maui at Wailea June 13-18 to teach their second retreat. This event is part of the resort's one-of-a-kind "Unforgettable Event series which gives guests the opportunity to participate in such diverse programs as viticulture and culinary events, film festival screenings and fantasy tennis and cycling camps. Learn more at: http://maui.enewsletters.fourseasons.com/unforgettableevents/
The Ashtanga Yoga Retreat is open to beginners and yoga enthusiasts alike (http://www.ashtanga.net.)
For "Entourage" actress Perrey Reeves, who attended last year's program, the impact of the retreat was in how all the elements came together. "The beautiful space, the location, Maui, Four Seasons, David Swenson…. this was one of the most unforgettable yoga experiences I have ever had."
The package includes: five nights in luxury resort accommodations; four morning yoga classes and three afternoon classes as well as tickets to the Maui Film Festival's Celestial Cinema screenings and the festival's "Taste of Chocolate" event. Maui Film Festival is a renowned destination for independent film screening movies outdoors under the stars while featuring special tasting events and galas. More information and film schedules can be found at http://www.mauifilmfestival.com.
Also in June is the inaugural Four Pinots at Four Seasons which pairs four boutique Pinot Noir vintners with the unparalleled cuisine of the Four Seasons Resort Maui restaurants. With an emphasis on local produce, seafood, cheeses and meats, Four Pinots culminates in a gala on the Ocean Front Lawn where these local purveyors mingle with guests and enjoy more than forty wines paired with the true cuisine of Maui.
And, in December, the wines continue to flow at Four Seasons Resort Maui with the newly reconceived Maui Wine and Food Festival. The multi-day festival (December 6-9) will feature Maui's rich bounty of ranch, ocean and farm fresh products, along with exceptional wines, and educational culinary and wine encounters led by world renowned Master Sommeliers. Detailed information on exact events, locations and ticketing will be available online at http://www.waileawineandfoodfestival.com starting June 1, 2012.
Maui's first and only Forbes Five-Star resort is nestled on 15 acres of the breathtaking Wailea Coast. The 380-room oceanfront property is world-renowned for its comfortable opulence, impeccable service, luxurious amenities, and for living in harmony with its environment and community.