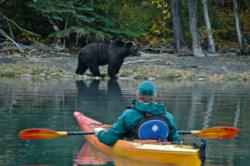 Canada's most popular expedition rafting adventure and starts at the lodge's doorstep
British Columbia, Canada (PRWEB) April 30, 2012
Located less than a one hour flight north of Whistler, the Chilcotin is arguably one of Canada's most spectacular landscapes, rivaling Patagonia, The Rockies and Switzerland. However, if one asks the average Vancouverite, few will know anything about it despite the region hosting Canada's largest high alpine lake, 17 provincial parks and some of the best wilderness terrain on the planet. In part, this is because of its remote location - set between the West Coast and Alaska Highway – and locked behind the Coast Mountain Ranges but this solely cannot explain how it's remained in obscurity.
Amidst this wilderness bliss sits The Lodge at Chilko Lake, a ten million dollar private guest ranch built by eccentric multi-millionaires, Phil and Anne Huston of Omaha, Nebraska. The Huston's recognized the significant value of this area and built their dream retreat. Unlike their profit-driven neighbour, Warren Buffet, there is no business model to support such a venture. However, "ROAM Adventures has capitalized as the exclusive operators of this world-class facility" says ROAM founder, Brian McCutcheon.
ROAM has been operating 7-day river rafting expeditions on the Chilko-Chilcotin-Fraser since 1986 and has become the region's largest and most diverse tour operator. "The Huston's became good friends over the years and when they finally decided to open their doors to the public, we were a major benefactor", says McCutcheon. The Huston's also donate lodge space to injured veterans from north and south of the border.
ROAM now offers luxurious lodge-based adventures to compliment their camping and river-based trips in addition to new Ranch & Raft combinations. "The Chilko-Chilcotin-Fraser is Western Canada's most popular expedition rafting adventure and starts at the lodge's doorstep so it was a natural fit... ROAM has been running the river since 1986 and they know it better than anyone.", says Huston.
The Lodge at Chilko packages are not inexpensive but offer outstanding value as they only take 12 guests at a time. Prices include deluxe lodging, chef-prepared meals, house wine and beer as well as all activities such as wildlife viewing, guided hiking, biking, rafting, kayaking, horseback riding, off-roading, fishing (fly and spin) and boating on the 55-mile long Chilko Lake and surrounding wilderness. Heli hiking, massage and spa services can be easily organized at an additional cost.
Fishing on the Chilko River is world-class but best for dry fly fishing between June 13th and mid-September. Tsuniah and Chilko lakes are also inspiring fisheries with opposite cycles. Choose to add fly-out options to as many as a hundred lakes and streams within 60 miles of the lodge. Float-plane trips are additional but money well spent for avid anglers.
Trips that operate May to August generally focus on adventure activities. Wildlife is always plentiful in the Chilcotin as there many resident bears, wolves and eagles but in autumn, (Sept through October), 2 million salmon attract as many as 70-80 grizzly bears and hundreds, sometimes thousands, of bald eagles. Unlike other bear viewing trips in Canada and Alaska, see grizzlies while participating in kayaking, canoeing, biking, hiking, horseback riding and boating activities. No sitting on platforms for hours hoping bears will arrive. Guests go out and find them, and have fun along the way.
Since 1986 ROAM Adventures Inc. operates wilderness rafting, sea kayaking, trekking and multi-sport adventures around the globe. Raft through caribou migrations, sea kayak with grizzlies and orca as well as culinary, wine and music-based lodge and ranch packages. "Eat Pray Love" author, Elizabeth Gilbert, says ROAM trips are like falling in love, traveling to India or seeing a tiger in the wild...things one never forgets! ROAM also offers fly fishing, all-woman trips, hard-core whitewater and first descents as well as family-friendly programs and solo traveler trips. With past guests like Donna Karan, Roger Waters and everyone in between, ROAM has a story to tell.