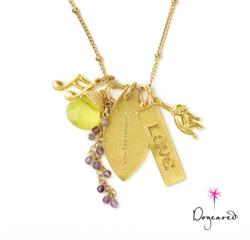 Dogeared designs have a unique and eclectic point of view. Looks range from simple, timeless jewels, to vintage-inspired creations with an heirloom feel, to relaxed pieces with earthy, bohemian aesthetic.
Los Angeles, CA (PRWEB) April 30, 2012
Dogeared Jewels & Gifts, a trendsetting fashion brand known for innovative designs and a cool California aesthetic, is proud to present its mid-season collection at ENK Accessorie Circuit, May 7 – 9th in NYC. Dogeared will present two new books; a spring supplement, Dogeared Forever 2012 ½ and Dogeared Create Volume 2.
Both catalogs will feature the intricately designed and hand-cast charms the company is known for, along with new styles and collections. The recently released Dogeared Bridal catalog along with the 2012 core collection and the Bracelet Bar, will also be presented.
New York ENK Accessorie Circuit Show
The Show Piers
New York City
Booth #3142
May 7 - 9, 2012
9am-6pm
Dogeared Jewels & Gifts
Designer Marcia Maizel-Clarke founded Dogeared Jewels & Gifts just over 20 years ago in Southern California. Originating word jewelry, she began creating beautiful pieces with the purpose of putting positive, peaceful, and loving energy into the world. This energy has always included being kind to the planet, handcrafting all the jewels and gifts in California, and working with non-profit organizations sharing a vision of a better world. Dogeared's unique, custom-cast jewels are regularly featured in fashion, lifestyle, and celebrity publications, in films and on television shows. Trendsetting retailers around the world, including Nordstrom, Neiman Marcus, Bloomingdale's, Fred Segal, and ABC Home, all carry Dogeared. Dogeared is a certified B Corporation. Please visit http://www.dogeared.com for Dogeared's online flagship store. For wholesale information, visit http://www.dogearedwholesale.com.