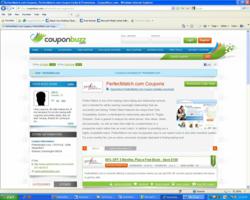 PerfectMatch.com understands that every individual has a different level of readiness to jump into the online dating scene
Houston, TX (PRWEB) April 30, 2012
Commitment. The C-word. The big, bad terrible word that stops people from saying I love you, or calling for a 3rd date, or buying an expensive Valentine's gift. The noun of terror that means an individual is agreeing to miss out on all the potential hotties they could be dating because they are in a 'committed' relationship. Well guess what? CouponBuzz.com is currently featuring PerfectMatch.com coupons structured just for the commitment phobic individual.
For individuals who feel like they can commit to three months with the same online dating service, the featured PerfectMatch.com coupon code will save them 55% on their first three months of membership. For individuals who would really only feel comfortable committing for one month, there is a 50% off PerfectMatch.com coupon offered. And for those individuals who flee commitment like a fox fleeing hounds, the PerfectMatch.com coupon for a 5-day trial membership for just $9.99 is the way to go.
"PerfectMatch.com understands that every individual has a different level of readiness to jump into the online dating scene," explained Justin Bowen, a spokesperson for CouponBuzz.com. "Some are being pushed by friends and parents and just signing up to buy some breathing space. Others are ready for a dating marathon, scheduling 4 or 5 dates a week! Which is why we think the trio of PerfectMatch.com coupons we are currently featuring is absolutely perfect, appealing to the varied needs of every site visitor."
CouponBuzz.com understands that in addition to commitment phobia, individuals might also lack the time to do a lot of research on coupons and dating sites, so they're featuring all three coupons next to each other in their new section dedicated to PerfectMatch.com special offers. Now online shoppers can easily select which level of commitment they feel comfortable with after weighing the available options. They can signal exactly how far into the relationship they are willing to stay committed with one simple click of the mouse. Now, if only members of the opposite sex were so simple. Visit http://couponbuzz.com/perfectmatch.com-coupons.html to pick a level of commitment today.