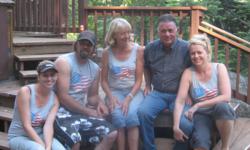 The hardest part of living with the Bipolar Disorder was stopping from helping too much.
(PRWEB) April 30, 2012
Diagnosed with Bipolar 1 at nineteen years of age, Maggie Reese was hospitalized twice, put her family through complete emotional turmoil, and Maggie herself felt as though she fallen into a living hell herself! Maggie went from being a running star, good student, and a fun loving individual to change into a dreadful, mean, scary and very sad girl. What got her through it all was family with incredible depth of hope and patience!
This month on the Runaway Mind Radio Show heard over Blog Talk Radio, Saturday May 19, in honor of mental health awareness month Maggie will dedicate the entire show to families living with Bipolar Disorder. Her guests will be her Mother Leslie, Joe her father, Brother Tom, Sister Amy, Maggie's daughter Allie.
Leslie is somebody who knows how hard it is to have Bipolar 1 disorder and how hard Maggie works everyday to stay well. She knows how Maggie will try to hide the awful thoughts in her mind and still she understands it. According to Leslie the hardest part of living with Bipolar Disorder was stopping from helping too much, expecting too little, and interfering in Maggie's life.
Joe is true father in every sense of the word. No matter how bad a situation is it doesn't break him. He fights to the end of every crisis whether it is a business deal or a family matter. He was there all through Maggie's manic episode at nineteen at every hour of the day and night. He believed in her even though she would become awful and mean spirited, staying strong and waiting until she eventually came back home one day where he was waiting with open loving arms.
Maggie Reese is the author of the book "Runaway Mind, My Own Race with Bipolar Disorder." She wrote the book with the vision of giving hope to others living with the Bipolar Disorder the purpose of breaking the stigmas of mental illness so other families and people dealing with this mental illness can find the faith that someone, like herself, can lead a normal productive life.
Her memoirs prove that a person suffering from Bipolar Disorder can go away ... and come back to life again. Maggie has brought encouragement to those living with Bipolar and other mental illnesses by speaking and sharing her inspiring story and book in San Diego for the International Bipolar Foundation, DBSA, Kaplan College, Brandman University and various NAMI groups throughout Southern California.
The International Bipolar Foundation nominated and approved Maggie Reese to be on their Executive Board and she is the recipient of the 2011 Young Advocate of the Year Award presented by NAMI of San Diego.
To order the book, learn more about Maggie Reese and hear previous episodes of the On the Runaway Mind Radio Show go to her website at http://www.runawaymind.net. You may also follow her and post questions on facebook.com/RunawayMind. Watch her videos of how Maggie gets through her daily life on her YouTube channel at http://www.youtube.com/user/runawaymindbook.