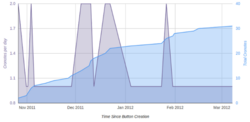 A great tool for gauging customer interest in a product or event.
Fountain Valley, CA (PRWEB) April 30, 2012
Cronote has launched a new Analytics tool for tracking usage of the Cronote Remind button. The Remind button lets users schedule an email to text message reminder about a product. Cronote's Analytics provides unprecedented insight into the utility and impact of each button. Which product is generating the most buzz? When are reminders being scheduled? When are they being delivered?
The simple and easy-to-use Analytics tool answers these questions by producing a detailed graph. The client can track the number of reminders scheduled or delivered per day, as well as the total number of reminders scheduled or delivered to date. The graph is a great tool for gauging customer interest in a product or event. The graph can also be used for presentations to showcase customer interaction with the client's website.
This type of analysis helps clients anticipate future sales and better understand the behavior of their potential customers. For instance, if a product has a high volume of scheduled texts and emails set to be delivered right before Mother's Day, one could interpret that the product is perceived as a great gift for the holiday. The client might then consider ensuring sufficient stock during that time period. When the Remind button is used for an upcoming product launch or event, the total number of reminders can be used to measure customer interest and their intent to purchase or attend.
Cronote Analytics is free for all users. Clients can access a current report for each of their Remind buttons at any time, simply by logging into the website (http://www.cronote.com). There is no limit to the number of Remind buttons created. Visit http://www.cronote.com/Remind.shtml to learn more.
About Cronote
Cronote is an online service for creating scheduled texts and emails. The Cronote Remind button is a novel Internet advertising solution that allows businesses to connect with their customers through a unique medium: time-based text messages and emails. Website visitors can use the Remind button to securely schedule a reminder about a product or event. Reminders are delivered at a specified time in the future when the customer is more likely to take action. The Cronote Reminders iPhone app is also available for download.
Cronote is a web-based company established in December 2010 by graduate students from Yale University and the University of California, Irvine. Cronote aims to provide quick and easy ways to schedule reminders. Visit http://www.cronote.com to learn more.