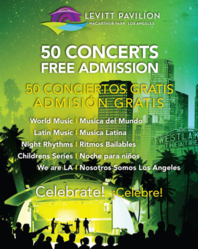 LevittLA at MacArthur Park, the Art & Soul of Los Angeles
Los Angeles, CA (PRWEB) April 30, 2012
The LevittLA at MacArthur Park will kick off its 2012 FREE Summer Concert Season with a repertoire of musicians that include the beautiful Brazilian Samba, Rap and Afrobeat of Criolo, SMOD's African Hi-Hop, and Fools Gold Indie Rock, among others.
The kick off celebration on Thursday, July 5, at 7:00 p.m. launches a musical lineup featuring Grammy-winners and world-renowned artists. The FREE concerts are presented Thursdays through Sundays beginning at 7:00 p.m., July 5 through September 9, 20l2, at the beautiful MacArthur Park pavilion (2230 W. 6th Street Los Angeles, CA 90057). Children's shows on Sundays begin at 4:00 p.m. unless otherwise noted. Street parking surrounding MacArthur Park and within walking distance to LevittLA is available.
The pavilion experience also features a food court, presenting artisanal foods from local, independent food-based businesses and vendors, and non-profit organizations. Concertgoers are also welcome to bring their own food to picnic on the grassy lawn and enjoy music under the stars. A full calendar listing of artists and times is available at http://www.levittla.org or http://www.facebook.com/LevittPavilionMacPark.
Located just west of the heart of downtown Los Angeles, MacArthur Park is one of the oldest and most significant parks in Los Angeles with a rich and colorful history. Since its opening in 2007, more than 200,000 people have gathered at Levitt Pavilion MacArthur Park to create community through music. Long the jewel of Los Angeles and the center of Arts and Culture, MacArthur Park is returning to its rightful place as the "Art & Soul of Los Angeles". For more information or to interview a LevittLA spokesperson contact Evelyn Aleman at evelyn(at)mipr.net.