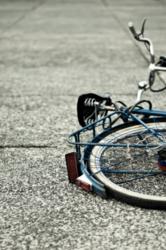 Last year, 17,185 cyclists were reported to be involved in accidents across the UK.
(PRWEB UK) 30 April 2012
Cycling is a popular activity in the UK. Whether for commuting or pleasure, as a greener alternative to driving and cheaper (and more reliable?) than public transport, it is little wonder that the number of cyclists on Britain's roads is steadily rising.
Last year, according to Department for Transport statistics, 17,185 cyclists were reported to be involved in accidents across the UK. Of these, 111 were killed, and 2,660 were seriously injured. 80.16% of these incidents involved a car.
Whilst this figure is slightly lower than the previous year, it is still a high number of injuries and fatalities, and with little to no protection on a bicycle, you can see why only 2% of the incidents did not result in any injuries.
Currently, if a cyclist is hit by an uninsured driver, or collides with a pedestrian or vehicle, they may not be insured for any medical bills and compensation costs arising from the incident. Surprisingly, lots of cyclists do not even have cover against theft of their bicycle. Compensation for damages to a vehicle or property - even for something like scratched paint - can be hefty, let alone for a serious injury or fatality. Motorists are usually covered for such costs under their motor insurance – if they have it – so why should a cyclist have to pay such costs from their own pocket?
Specialist cycle insurance companies such as http://www.cycleinsurance.co.uk offer a selection of stand-alone insurance policies which offer cyclists cover against theft, both at home and away, and usually have options to include personal accident cover and public liability insurance as well. Of course, some cyclists may already have this cover in place, perhaps having already been involved in an accident or knowing someone who has. Bicycle theft is also steadily increasing in the UK. With a 2% rise in cycle theft from 2010-2011, it seems that no matter how sophisticated the bicycle security, a determined thief will still find a way around it and make off with the bike, sometimes within a matter of seconds. Bicycle theft is a growing problem, and having your cycle stolen is not a pleasant experience.
Bicycle insurance from CycleInsurance.co.uk can help to replace a stolen bicycle, provide a cyclist with personal accident cover to give them a payment in the event of a permanent injury, and public liability cover to protect the cyclist from legal fees and cover compensation or damage costs if involved in an incident with a third party. The price of a basic policy is surprisingly low, starting from around £25.00 a year, depending on the value of the bike. There are a selection of providers to choose from.
Should cycle insurance be made compulsory to protect cyclists in the same way as other vehicle insurances? This is a topic that has been discussed numerous times with no real conclusion. There are arguments both for and against it, and in the meantime there are more and more cyclists taking to the road.
For more information, and to get cover quickly and easily online, visit http://www.cycleinsurance.co.uk