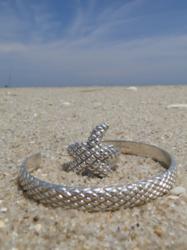 Point Pleasant Beach, NJ (PRWEB) April 30, 2012
Jersey Shore Bracelet Company is excited for Mother's Day, as they truly realize the importance of a family. They welcome each purchase into the "Jersey Shore Bracelet Family". As a result of this and to help give back to the community, they are running a promotion currently that they are donated a portion of sales through Mother's Day to Children's Specialized Hospital.
Katie, the designer and owner of Jersey Shore Bracelet Company, explains the rationale behind teaming up with Children's Specialized Hospital. "Children's Specialized Hospital is a great organization that provides rehabilitation to children suffering from a traumatic injury, children born with genetic defects, congenital disorders, and recovery from surgery. We, at Jersey Shore Bracelet Company, are excited to once again partner with CSH to help support their work."
Background Info:
The Jersey Shore Bracelet Company has launched a line of jewelry based around their signature cross-hatching pattern. The cross-hatching pattern is a simple yet stunning reminder of the beauty of the striations and patterns in the sand after an Atlantic storm. JSB offers sterling silver and 14 karat gold cuff styled Bracelets, and a one of a kind wrap-around Starfish Ring, along with their latest addition of a bead.
The jewelry is a beautiful keepsake to remind you of your summers down the Shore, hence their motto, "Shore Memories that Last Forever." Other coastlines have their own lines of jewelry, and now the Jersey Shore does as well. Check out the website for details and pictures of Jersey Shore Bracelet Beach Tour at your favorite beach spots.
Be sure to 'like' the Jersey Shore Bracelet Company's fan page on Facebook for a chance to win a piece from the JSB collection, and follow them on Twitter, JSBracelet. Stay up to date with JSB news and make a splash in fashion.