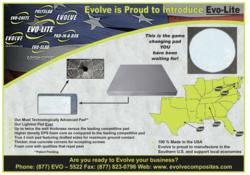 This newest pad entry from the HVAC solution provider offers revolutionary features that are quickly changing the way lightweight HVAC pads are perceived
Columbia, Maryland (PRWEB) April 30, 2012
As part of their Spring 2012 new product launch, Columbia, Maryland Based Evolve Composites has brought to market their latest and most innovative HVAC pad design to date with the "Evo-Lite" lightweight pad.
This newest pad entry from the HVAC solution provider offers revolutionary features that are quickly changing the way lightweight HVAC pads are perceived. "The primary difference between competitive pads on the market and our Evo-Lite pad is of course the use of a full concrete body utilizing our revolutionary "Evo-Crete" lightweight concrete" said Evolve's Vice President of Sales Rick Mabry.
The Evo-Lite pad is available in 2" thick and 3" thick pad offerings. The pad's design also features drafted side edge profiles that give a slight angled edge and larger footprint where the pad touches the ground. "The pad size is based on the top surface feature where units rest" continued Mabry. "The additional footprint delivered by the drafted sides and the true pad thickness add value points to the Evo-Lite pad for the end user. We are providing more pad and value for the money at the distributor and contractor levels than anything the competition currently offers."
Additional features of Evolve Composite's Evo-Lite pad include the use of "Evo-Skin" technology. Evo-Skin is a proprietary surface area applied to the pad that gives the finished product an even greater level of performance and value. The Evo-Skin surface provides a friendly, textured, no-slip surface that is consistent every time while offering installers a product that is easy to handle and install.
Evolve Composites developed and perfected the Evo-Lite pad by utilizing a high density EPS foam core in a round configuration. This patent pending design allows for maximum strength at the corners where the installer needs it most. Being that the foam is of an extremely high density, it will not degrade of fall apart after coming into contact with moisture. Additionally, the foam also repels ants and termites, greatly diminishing the congregation and nesting of such unwanted pests.
With the thicker, truer concrete corners, the Evo-Lite pad readily accepts tap con screws as well, an amazingly revolutionary step forward for lightweight concrete products. The surface concrete of the Evo-Lite is more than double the nominal thickness of the leading competitive pad and the wall thickness at the thinnest point also offers double the thickness when compared to the wall thickness of the leading competitive pad
"We strongly believe that this pad is what contractors and distributors both have been waiting for" says Mabry. "Evo-Lite utilizing Evo-Crete technology is a revolutionary HVAC pad that delivers all of the attributes one looks for in a pad: it is lightweight while still offering true thicknesses and measures, it utilizes a high density foam with less mess and waste and also repels pests. Additionally Evo-Lite won't chip or crack from yard equipment, it resists creasing and saddling that pads often are subject to under unit weight, and is easy to handle for contractors and simple to stock and ship for our distribution partners. Most importantly, Evo-Lite continues our never ending quest to deliver performance and technology with the user in mind at competitive prices."
Evolve Composites is a Columbia, Maryland based company with manufacturing plants in Maryland, Alabama and Florida along with a national sales and marketing office and distribution point in Houston, Texas.