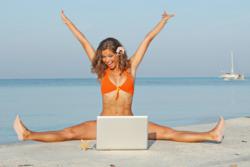 Publishers of technical documents can now be confident their content is optimized for mobile device users.
(PRWEB) April 30, 2012
Microsearch Corporation has announced new mobile device optimization features available for online publishers of technical information.
"Publishers of long technical manuals - User Manuals, Parts Manuals, and the like - are concerned that users of mobile devices may not be able to access technical information when and where they need it. Some mobile devices simply will not accept long documents when the device is in wireless mode, and when they do, the download time and bandwidth used up are excessive. Our new Publishers services are totally optimized for the mobile device users market," reports Chuck Kelly, CEO of Microsearch Corporation.
"Our new document search and retrieval engine is compatible with all contemporary wireless devices - tablets, laptops, PDAs - as well as wired computers. Users can set their device download preferences on the go. Users download exactly as much of a long document as they want, saving time and costly bandwidth when in wireless mode."
Founded in 1996 in Boston, Massachusetts, Microsearch provides private search and retrieval services to electronic document publishers such as associations and research organizations, and open and public search and retrieval services to organizations such as libraries and government agencies.
"Our private publisher services use a highly secure web portal where only authenticated users can access document information, " Kelly says, " while our public publishing services for libraries feature open and user friendly access. Our private services protect Publisher's rights and allow full subscription management, while our public publishing gives libraries the ability to present very large collections of long documents to the public."
Microsearch is now scheduling free demos of its new Publisher support services. Using their own document content, Publishers can see how their long technical documents perform in wireless mode.
For more information, or to schedule your own demo, contact Chuck Kelly by email, or call him directly at 781-231-9994.