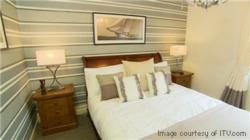 Our new web site brings together more than 25 years' experience in soft furnishings and interior design, working alongside both private and commercial clients.
(PRWEB) April 30, 2012
Soft furnishing and interior design specialist, Shack Interiors, was selected by ITV's daily '60 Minute Makeover' programme to supply some of its own designs as well as specialist furnishings and accessories for the hit series' latest season.
Design Director, Sheena Davey explains: "We were spotted by the programme and asked to supply bespoke items designed and manufactured specifically by us, including lamps and a buttoned headboard, as well as wallpaper designs by Brian Yates, Designers Guild, Harlequin and Casamance, which will appear on three shows in the current series."
Broadcast this week, the '60 Minute Makeover 'programme coincided with the launch of the company's new online store http://www.shackfurnishings.com which showcases stunning schemes and furnishings including the designs by Sheena and her team which initially caught the attention of the programme researchers.
Sheena adds: "Our new web site brings together more than 25 years' experience in soft furnishings and interior design, working alongside both private and commercial clients. The purpose and beauty of the new site is to inspire and stimulate the wider public by giving them access to high-end design concepts which include some of the world's leading wallpapers and accessories. These ideas can then be quickly and easily replicated at home through our online store."
60 Minute Makeover: http://www.itv.com/60minutemakeover/