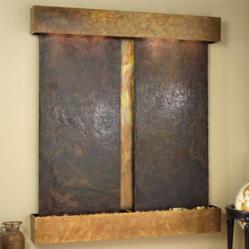 Water features designed for business use are available in a range of high-end materials ...
Arden, NC (PRWEB) April 30, 2012
Kinetic Fountains, a leading provider of high quality indoor and outdoor fountains, has today debuted new selections of designer water features. New options available offer home and business owners the chance to bring the beauty and tranquility of running water into their environments in a unique way.
New water features on offer from Kinetic Fountains include a range of designer indoor fountains designed for use in a business environment. These range from small tabletop fountains to large wall fountains and everything in between. Water features designed for business use are available in a range of high-end materials, including natural stone, glass and copper to name only a few. They can also be logoed to match a business' branding needs and boost brand recognition.
Of course, Kinetic Fountains also offers new water features designed for indoor use in residential applications. These indoor water fountains are available in an even wider range of styles, designs and construction materials, and can incorporate organic materials like bamboo and wood, as well as visually appealing inspirational quotes if the homeowner prefers.
All new water features debuting from Kinetic Fountains are manufactured by industry-leading brands, including Adagio Fountains, BluWorld, Water Wonders, Brass Baron, Harvey Galleries, Hunter Kenroy and Nayer Kazemi to name only a few.
Additionally, Kinetic Fountains continues to offer custom construction for water features for both homeowners and business needs. Each custom designed fountain is created expressly for a single application, and customers can choose from a dizzying variety of design elements, construction materials, shapes and sizes to find the perfect fountain for their needs.
To find out more about the various indoor and outdoor water features on offer or to place an order, visit the company at http://www.KineticFountains.com.
Kinetic Fountains is located in the stunning Blue Ridge Mountains in North Carolina. The company is dedicated to giving customers the means to enjoy the incomparable beauty of nature and the health benefits offered by running water in the form of indoor fountains, outdoor fountains, logoed fountains and more.