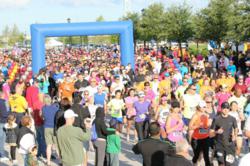 Plano, Texas (PRWEB) April 30, 2012
Building on the success of a historic inaugural event in 2011, the North Texas Head for the Cure 5K is registering runners and walkers for an even bigger race this year. More than 4,000 individuals are expected to participate in the 2012 event, which will be held May 12 on a USATF-certified road course at Granite Park in Plano.
Last year's race attracted 2,200 participants and raised more than $150,000 for the Head for the Cure Foundation, which raises money to research a cure for brain cancer.
One of those participants is Frisco resident Luke Wedel, who suffered a grand mal seizure while on a business trip. Later it was diagnosed that Luke had a brain tumor. While surgery removed most the tumor, Luke continues to take medicine to control the portion that was left. Even as he continues to battle the disease, he continues to work full-time and maintain a fully functioning life with his family.
The North Texas Head For the Cure race was initiated last year by friends of Stevie Patrick, a 29-year-old Frisco resident and Texas Boot Camp instructor, who was diagnosed with grade 3 Anaplastic Astrocytoma, a cancerous brain tumor, on May 15, 2010. She was treated at the University of Texas MD Anderson Cancer Center and continues to battle her illness.
Stevie's friends and family wanted to not only support her, but ultimately help find a cure to brain cancer. Together, they approached Head for the Cure, a 501(c)3 nonprofit organization that raises awareness and money to support brain cancer research, and created the inaugural North Texas Head for the Cure charity 5K.
This year, medals and prizes will be awarded to the top overall male and female finisher, the top overall Masters (40+) male and female finisher, and to the top three male and female finishers in all age groups.
While HFTC recognizes the athletic accomplishments of our top runners, the organization also spends time presenting Keeping the Faith awards to the special people for whom Head for the Cure exists. In a special ceremony, personal stories are share of those who are in the midst of their fight with brain cancer. The struggles and triumphs of the Keeping the Faith award recipients are even more poignant when shared with those who participate in the race.
Proceeds from the Head for the Cure 5K - North Texas benefit the Brain Tumor Trials Collaborative (BTTC) through the University of Texas M.D. Anderson Cancer Center and the Legacy Brain Foundation in North Texas.
Race Details:
What: Head For the Cure North Texas 5K
When: May 12, 2012, 8 am
Where: Granite (business) Park, Plano
To Register: Head for the Cure -- North Texas
About Head for the Cure:
Head for the Cure is a 501(c)3 nonprofit organization that raises awareness and money to support brain cancer research through the Brain Tumor Trials Collaborative (BTTC). Led by the MD Anderson Cancer Center, the BTTC is a network of NCI-accredited medical centers with the expertise and the desire to participate in state-of-the-art clinical trials investigating new treatments for malignant brain tumors. Headquartered in Kansas City, Head for the Cure's inception started with a 5K run/walk in memory of Chris Anthony, a former Allen resident, who lost his battle with a Glioblastoma Multiforme brain tumor in 2003. In just nine years, the flagship 5K, now called Head for the Cure 5K — Metro KC, has grown to an event that had more than 4,500 participants raising more than $325,000 for brain cancer research in 2011. The 5K events are not only successful fundraisers, but unique tributes to those who are fighting brain cancer and those who have lost their battles. Their memories carry on through the teams that formed around them, and the teams return year and year to celebrate their legacies.