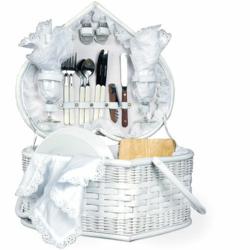 ... gift givers want to offer the happy couple something that will stand out from other gifts
Arden, NC (PRWEB) April 30, 2012
Picnic Fun has today announced help for those searching for the perfect wedding gift – elegant picnic baskets and picnic backpacks.
Finding the ideal wedding gift for a couple tying the knot can be a trying, frustrating ordeal. Choosing a gift that offers beauty and elegance, as well as usability can be hard to do. Of course, gift givers want to offer the happy couple something that will stand out from other gifts as well. Picnic baskets are the ideal solution.
There is something timelessly elegant about the look and feel of a beautiful woven picnic basket. Picnic Fun offers graceful picnic baskets with beautiful linings, all fully equipped with plates, cutlery and other essentials. For instance, Picnic Fun offers an array of picnic baskets for two, ranging from small gourmet picnic baskets to wine and cheese baskets and everything in between.
For newlyweds who enjoy getting off the beaten path and spending time together, Picnic Fun has debuted a line of picnic backpacks that combine the enjoyment of picnicking with the portability of a backpack. Whether the couple wants to hike a mountain trail or just find a secluded spot in a downtown park, these picnic backpacks are ideal solutions.
Picnic backpacks on offer range from those designed for two people to larger sets including service for four, in case the couple wants to plan an outing with friends. Insulated backpacks are available, and most come with cutlery and plates as well. However, empty backpacks are also available for those who have their own service to include.
Picnic Fun makes it simple and easy to give a gift that will not only be beautiful and well received, but that offers real usability and gives newlyweds the chance to get away from it all and spend time quality time together.
To find out more about the new picnic baskets on offer, visit the company at http://www.PicnicFun.com.
Picnic Fun was founded to provide individuals and families with access to the highest quality picnic baskets and other supplies to enjoy a rewarding, relaxing outdoor dining experience. Whether backpacking the Appalachian or dining in the backyard, Picnic Fun has the supplies required. The company also offers coffee, tea and wine totes, picnic backpacks, and college-themed packs and picnic baskets.