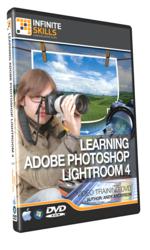 Learn Adobe Photoshop Lightroom 4 Quickly and Easily
(PRWEB) April 30, 2012
Software training firm InfiniteSkills Inc. has released a new tutorial in its Adobe Photoshop line, Learning Adobe Lightroom 4, designed to help photographers maximize the functionality of Adobe's photo management and post-production program.
Lightroom 4 assists photographers and editors in managing large quantities of digital images and offers a detailed palette of post-production editing tools designed to converge with the traditional development process of analog photography.
The latest edition of Lightroom includes an updated imaging algorithm which allows extended options for photo enhancement as well as upgraded adjustment brush capabilities. The InfiniteSkills training covers both new features and fundamental features all new users must know.
Learning Adobe Lightroom 4 Tutorial - DVD
Course author Andy Anderson is a professional photographer who has dedicated his career, spanning two decades, to mastering the line between analog and digital photography. He is also an experienced trainer and university professor having authored 17 books on photography and graphic design.
Anderson knows first-hand the challenges for photographers transitioning from the world of film to the world of digital imaging. He says his experience allows him to explain the technical concepts of digital imaging in terms of their analogs in film, and vice-versa.
"My goal," Anderson says, "is not only to help photographers work in the language of computers, but also to maximize their ability to add vibrance and nuance to their photographs working with Lightroom."
The Learning Adobe Lightroom 4 Training Video - DVD opens with a quick introduction to Lightroom 4 and a walk-through of a basic set-up. Anderson then guides users through the technical ins and outs of Lightroom 4, explaining the programs extensive organizational tools.
Several sections are then devoted to the details of Lightroom's popular array of dynamic post-production tools, which include controlling white balance, adjusting image tone, using the graduated filter, and several other fine adjustment tools. The course also explains how to add geographical information to image files, as well as the export and publication processes.
Anderson says that users will come away with the ability to "develop" digital images, enhancing and refining image detail taught in the language of a photographer's darkroom.
InfiniteSkills offers its Learning Adobe Lightroom 4 Video Training either as a DVD-ROM or a direct download from the company website at a retail price of $99.95, with shipping and purchase options available for customers worldwide. All titles and formats are compatible with both Mac and Windows systems, and InfiniteSkills tutorials are supported by project files which correspond to examples used by the tutors in the training videos.
Free demo videos and a full list of InfiniteSkills Lightroom course contents can be found on the Adobe Lightroom 4 training page on the company website:
http://www.infiniteskills.com/training/learning-adobe-photoshop-lightroom-4.html
About InfiniteSkills Inc.
A leader in the field of technology training, InfiniteSkills offers an innovative, task-oriented model for teaching complex technology concepts. The company provides a diverse range of tutorials as DVDs, digital downloads, and in iPad editions, delivering professional training to customers anywhere they want to learn.