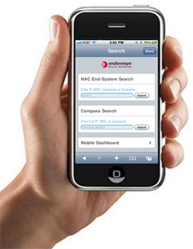 Enterasys is catching the BYOD wave with a broad range of very-cost-effective capabilities that will make BYOD a reality everywhere.
Andover, Mass. (PRWEB) April 30, 2012
Enterasys Networks, a network management solutions provider and Siemens Enterprise Communications Company, today announced the new Enterasys Mobile IAM (Mobile Identity and Access Manager), a bring-your-own device (BYOD) network solution. Designed to be implemented with no additional IT staffing, the Mobile IAM appliance provides enterprise IT complete control and visibility into their BYOD environments for just $8 per device. Available in both physical and virtual options, the Mobile IAM appliance addresses IT's most pressing BYOD concerns: security, user experience, simplicity and flexibility.
Enterasys Mobile IAM is an innovative BYOD deployment solution which addresses critical customer needs by providing: A single solution for corporate owned and user owned devices; Device-, User- and Location-specific network and application access; Granular enforcement of policies based upon user and device profiles; One-step access to the network without the need for portals; Automation of policy and provisioning capabilities.
"BYOD environments are increasingly becoming the norm for many enterprises and an important enabler of employee productivity and improved user experience. However, one of the barriers to adoption is the lack of confidence that IT can eliminate the potential risks of unauthorized access and security breaches," said Chris Crowell, president and CEO at Enterasys Networks. "Our new BYOD solution addresses these risks by providing end-to-end visibility and granular control of application delivery, usage of devices, and network resources. With this approach, we are the first to guarantee successful deployment of a complete BYOD solution, while allowing both end users and IT professionals to reap the many benefits of BYOD – increased mobility, higher job satisfaction, improvements in efficiency and productivity, and a reduction in end-user device management, troubleshooting and support."
Enterasys is also offering a range of guaranteed network security and management services that offer successful and timely installation, functionality and no additional IT staffing. Other services introduced include integration with any Mobile Device Management (MDM) solution, VDI deployments from VMware and Citrix and threat management from Palo Alto Networks for secure BYOD deployments.
"BYOD is one of the most important trends in enterprise IT today, with the potential to reduce costs, improve productivity, and efficiently mobilize the entire organization," says Craig Mathias, a Principal with the advisory firm Farpoint Group. "Enterasys is catching the BYOD wave with a broad range of very-cost-effective capabilities that will make BYOD a reality everywhere."
In addition, Enterasys MDM Connect provides users with the ability to integrate any mobile device management solution with Mobile IAM. Enterasys Mobile IAM Professional Services include policy-based routing for all edge devices, customized identity and access management implementation, and setup for custom user and device policies, including guest access.
About Enterasys Networks and Siemens Enterprise Communications
Siemens Enterprise Communications is a premier provider of end-to-end enterprise communications, including voice, network infrastructure and security solutions that use open, standards-based unified communications and business applications for a seamless collaboration experience. This award-winning "Open Communications" approach enables organizations to improve productivity and reduce costs through easy-to-deploy solutions that work within existing IT environments, delivering operational efficiencies. It is the foundation for the company's OpenPath® commitment that enables customers to mitigate risk and cost-effectively adopt unified communications. Jointly owned by The Gores Group and Siemens AG, Siemens Enterprise Communications includes Cycos and Enterasys Networks. For more information about Siemens Enterprise Communications or Enterasys please visit http://www.siemens-enterprise.com or http://www.enterasys.com.