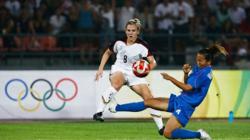 Now that the draw has taken place, we are delighted to put tickets on sale to see some of the world's most exciting young footballers in the Olympic Games
(PRWEB) April 30, 2012
- Football tickets will be available from 11am on 30 April until 11pm on 6 May 2012

First come, first served online or by phone
Remaining Olympic tickets for all sports to go on sale in May. Full timetable and sales process to be announced later this week.
The London Organising Committee of the Olympic Games and Paralympic Games (LOCOG) confirms that tickets for the Olympic Football tournament will go back on sale from 11am on Monday 30 April until 11pm on Sunday 6 May 2012.
Tickets will be sold on a first come, first served basis at http://www.tickets.london2012.com or via telephone on 0844 847 2012.
The draw for the tournament took place last week and the full fixture and price list is available here: View the full fixture and price list (pdf).
Highlights of the draw include the Team GB Women's team kicking off the tournament and the Olympic Games against New Zealand in Cardiff.
In the Men's tournament, current world champions Spain play Japan at Hampden Park and St James' Park Newcastle will host Brazil v New Zealand.
Tickets start at £20 for adults, with special prices available for people under 16 and over 60 at many matches. 'Pay your age' prices are available for those under 16 and tickets for people aged 60 or over will be priced at £16.
In recognition of Visa's longstanding support of the Olympic Games and Paralympic Games, only Visa (debit, credit and prepaid) can be used to purchase tickets.
LOCOG has confirmed that buying a Football ticket during this sale will not impact eligibility for future ticket sales.
The Olympic Football Tournament will take place at six iconic venues in cities across the UK - Hampden Park in Glasgow, Old Trafford in Manchester, Millennium Stadium in Cardiff, St James' Park in Newcastle, City of Coventry Stadium and Wembley Stadium in London.
So far approximately one million tickets have been sold for Football, with approximately 1.5 million still to sell.
LOCOG Commercial Director Chris Townsend said, 'Now that the draw has taken place, we are delighted to put tickets on sale to see some of the world's most exciting young footballers in the Olympic Games. This is a great opportunity for people across the UK to be part of the Games, and see great matches at great prices'
London 2012 Football tickets came off sale in February and the test events which took place throughout February enabled further work to take place on the seating bowl for cycling and swimming.
In March, the seating bowls for all venues were assessed and where possible, contingency tickets were moved into the inventory for the May sale.
Where venues have yet to be built, LOCOG will continue to hold contingency tickets to be released at a later date.
April has seen the ticketing systems and processes tested ready for the upcoming sales.
Full details of contingency ticket sales and Paralympic ticket sales will be announced later this week. These tickets will go on sale in May.
Notes to editors:
For further information please contact the London 2012 Press Office.
About Lloyds TSB:
Lloyds TSB is proud to partner the London 2012 ticketing programme and is supporting communities all over Britain on their journey to the London 2012 Olympic and Paralympic Games. To find out more about its London 2012 programmes visit Lloydstsb.com/London2012
London 2012 Games partners:
The Worldwide Olympic Partners who support the London 2012 Olympic Games and the National Olympic Committees around the world are Coca-Cola, Acer, Atos, Dow, GE, McDonald's, Omega, Panasonic, Procter and Gamble, Samsung and Visa.
LOCOG has seven domestic Tier One Partners - adidas, BMW, BP, British Airways, BT, EDF and Lloyds TSB. There are seven domestic Tier Two Supporters – Adecco, ArcelorMittal, Cadbury, Cisco, Deloitte, Thomas Cook and UPS. There are now twenty-eight domestic Tier Three Suppliers and Providers – Aggreko, Airwave, Atkins, Boston Consulting Group, CBS Outdoor, Crystal CG, Eurostar, Freshfields Bruckhaus Deringer LLP, G4S, GSK, Gymnova, Heathrow Airport, Heineken UK, Holiday Inn, John Lewis, McCann Worldgroup, Mondo, NATURE VALLEY, Next, Nielsen, Populous, Rapiscan Systems, Rio Tinto, Technogym, Thames Water, Ticketmaster, Trebor and Westfield.
There is one domestic Tier One Paralympic Games-only Partner, Sainsbury's and two domestic Tier Three Paralympic Games-only Suppliers, Otto Bock and Panasonic. The London 2012 Paralympic Games also acknowledges the support of the National Lottery.