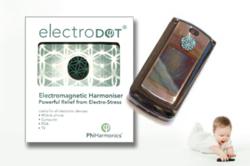 "I have started sleeping really well which I haven't done since before my children were born (some 18 years ago!)." Sarah Hunt, Torquay
(PRWEB UK) 30 April 2012
Bio-energetics specialists Phi harmonics today launched Sleep Support from babyDOT. A four inch organic cotton comforter pad containing a BabyDOT. BabyDOT is a revolutionary product which holds an energy signature designed to support a babies energy field. All human energy fields are bombarded by man-made electro-magnetic frequencies and this can be particularly unsettling for a baby. The immediate benefits of a stronger, more coherent energy field include deeper sleep and a sense of calm.
If a baby isn't sleeping well Mum will have undoubtedly tried many ways to remedy the situation. One factor that can disrupt sleep patterns is the high level of emissions from the technology we rely on. The average home now has 192 electrical/electronic items. Babies monitors, wi-Fi routers, mobiles and computers all emit man-made electro-magnetic frequencies.
Sleep Support from babyDOT offers a revolutionary way to counteract the effect of these unnatural emissions. Simply place the cushioned organic cotton pad containing a babyDOT by baby's feet and see how your baby responds. Lucy Blyth, Director, Phi says, "This might just be the break Mums need to establish those longed for sleep patterns".
A gentle, soothing energy signature has been programmed onto the babyDOT using revolutionary PHI technology. This nurturing energy signature neutralises the disturbing emissions from electrical and electronic items.
If your readers would you like to try a babyDOT for themselves we can run a reader offer.