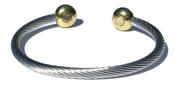 Magnetic jewelry makes sure to put a smile on your mother's face all year long.
(PRWEB) April 30, 2012
This year, Mother's Day falls on Sunday, May 13, and WellnessMarketer.com has a variety of popular magnetic jewelry now in stock that comes in a variety of styles and materials.
The magnetic bracelets, magnetic anklets and magnetic necklaces come made of stainless steel, titanium, copper, hemalite and alloy; gold and/or silver plated, with or without gemstones; cuff style bracelets, silicone bands, or link style bracelets. Magnetic rings are available in copper or stainless steel. Other magnetic jewelry products can be found on WellnessMarketer.com.
Gary Weber, owner of WellnessMarketer.com, says, "Magnetic jewelry makes sure to put a smile on your mother's face all year long." Making mom happy is especially easy when free worldwide shipping and a 30-day satisfaction guarantee are included with every order at WellnessMarketer.com.
Please visit http://www.WellnessMarketer.com for more information.
About WellnessMarketer
WellnessMarketer.com is a family-owned company that has been selling alternative health and wellness-related products online since 1999. It is their goal to provide their customers with products of superior quality that are designed to help in the pursuit of a healthy, balanced lifestyle. They thoroughly examine and test every product to ensure they provide and uphold their extraordinary customer service. Constant site improvements and pleasant shopping experiences turn shoppers into customers for life.
Media Contact:
Maria Weber
WellnessMarketer.com
Customerservice (at) wellnessmarketer (dot) com
1-866-587-6362