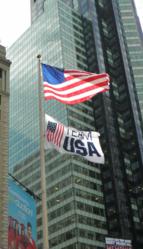 As the proud manufacturer of the U.S. flag, we feel that the Olympic Athletes embody the spirit and core ideals of our country that are represented in our flag
Roseland, New Jersey (PRWEB) April 30, 2012
The Raise Our Flag Fundraising Campaign is about engaging Americans in the lives of our talented athletes and joining in their journeys as they strive to represent our country on the world's biggest stage. The U.S. Olympic team is wholly reliant on donations from sponsors and the American public. To support the program, Annin Flagmakers is creating 'Team Annin' which will engage its employees, vendors, business partners, friends and family in this fundraising effort.
"The essence of the USOC campaign is that we, as Americans, are the Team behind the Team" states Mary E. Repke, Vice President of Marketing at Annin Flagmakers. "We are honored to be asked by the USOC to make the flag for this campaign and have that flag be carried in the opening ceremony by our athletes. As the proud manufacturer of the U.S. flag, we feel that the Olympic Athletes embody the spirit and core ideals of our country that are represented in our flag" states Repke.
Fans can follow the making of Team USA and the stories of America's athletes at http://www.TeamUSA.org. The series begins daily installments leading up to the Opening Ceremony of the London Games on July 27. Fans can follow all of the action as athletes qualify for the 2012 U.S. Olympic and Paralympic Teams. Check for the latest from "The Road to London" presented by Hilton HHonors. This site will lead you to the donations site or anyone interested can go directly to http://www.raiseourflag.org.
Annin Flagmakers, a family owned business since 1847 headquartered in Roseland, New Jersey, is the oldest and largest flagmaker in the United States. Annin Flagmakers distributes its products through Specialty Flag Retailers, mass market retailers and organizations such as the VFW and the American Legion.
###