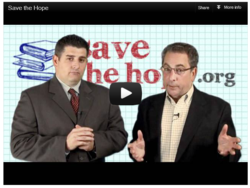 Let's work together as a community, and Save The HOPE Scholarship.
Atlanta, Georgia (PRWEB) April 30, 2012
Georgia community and business leaders are being invited to join forces and make their voices heard to save the state's famed HOPE Scholarship. Volunteers have created a Save The HOPE web site (http://www.savethehope.org/) and are asking web site visitors to sign an electronic petition and that leaders from about the state take a stand urging full funding of the 19-year-old statewide scholarship.
Every year since 1993, The HOPE Scholarship has made it possible for thousands of Georgia students, who otherwise might not be able to afford higher education, to do so with minimal financial burden. The HOPE Scholarship currently faces an uphill battle generating funds while tuition and fees continue to increase at a pace far out-stripping the revenue. Business leaders Bud Carter, Senior Chairman for an international organization of CEOs, and Jason Hennessey, CEO of Atlanta SEO Company EverSpark Interactive, among others, have joined their volunteer efforts and are urging others to join them and Save The HOPE.
SavetheHOPE.org is not about raising money, the two men note, but rather about raising awareness and issuing a call for action. Most importantly, the site includes a citizen petition which supporters can electronically sign to show their support for full-funding of The HOPE. The site also urges the public to contact those leaders who could take initiative to Save The HOPE, and includes contact information for Jimmy Braswell, Chairman of the Georgia Lottery Corporation, who has the legal authority to delegate full-funding to The HOPE, as well as for Governor Nathan Deal, whose approval of the project would improve the likelihood that the board makes the decision that could lead to full-funding.
The new website emphasizes that the more educated those entering the workforce are, the stronger and better off Georgia's overall workforce is. According to Bud Carter, founding member of Save The HOPE and SavetheHOPE.org. "The HOPE scholarship is good business and good for business." Over one million college-aged students have received The HOPE Scholarship since its inception in 1993, and over one million Pre-Kindergarten students have directly benefited from lottery money as well. Further, Governor Deal has announced a goal of increasing the college graduation rate from 42% to 60% under his program "Graduate Georgia." The founders of Save The HOPE are concerned that that goal cannot be reached without a fully-funded HOPE Scholarship program.
The site emphasizes that without the help provided by The HOPE Scholarship, both the future of Georgia's youth and that of the state would look a lot less bright. The purpose of SavetheHOPE.org is to Save The HOPE by encouraging the public to voice their support of the scholarship by signing an online citizen petition and by urging Governor Deal and the board of The Georgia Lottery Corporation to take action in favor of the scholarship. Jason Hennessey explains why he feels it is so important to Save The HOPE: "As a father of two boys, who both attend Mountain Park Elementary School in Roswell, I think we have to put politics aside for a moment and do what is best for the future of our young Georgia students. Let's work together as a community, and Save The HOPE Scholarship."
About Save The HOPE: Save The HOPE is a group volunteer, not-for-profit effort by Georgia business and community leaders aimed at saving The HOPE Scholarship by drawing attention to the lack of action on a key issue for tens of thousands of young people here in our State. These leaders highlight the importance of full-funding for the scholarship that has helped over one million college-aged students achieve a quality higher education. SavetheHOPE.org promotes this cause. Supporters are also encouraged to promote the cause and share stories of how the HOPE has affected them or their children on Save The HOPE Facebook Page.
About EverSpark Interactive: EverSpark Interactive is an Interactive Marketing Agency based in Atlanta, Georgia. The agency provides Search Engine Optimization services, social media marketing services, website design and more.
About Bud Carter: As Senior Chairman for Vistage International here in Atlanta, Carter has been working with Atlanta based company Presidents and CEOs since 1987, currently serving as Chairman of three "think tank" like groups with a total of 51 executive level members. He serves on several Boards including those of the Reporter Newspapers, The Coles Business College at Kennesaw State, and the Wells Real Estate Investment Trust. An avid Braves fan and jazz enthusiast, Carter has spent a lifetime in pursuit of the perfect barbeque.
About Jason Hennessey: Jason Hennessey is the CEO and co-founder of EverSpark Interactive – an Interactive Marketing Agency based in Atlanta, GA. Hennessey is an internationally-known Search Engine Optimization (SEO) expert. Over the past seven years, Jason has been a vigorous student/practitioner of search marketing – dissecting, testing, debunking, and reverse engineering the major search algorithms. He has been featured in such publications as Wall Street Journal, Parade Magazine, Los Angeles Times, Inc Magazine, Bloomberg and CNBC. He is also a regular contributor to The Washington Post and Fox Small Business.
Media Contact: Amie Baumwell
EverSpark Interactive
abaumwell(at)eversparkinteractive(dot)com
###