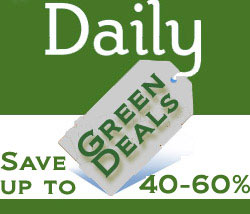 Los Angeles, CA (PRWEB) April 30, 2012
GreenDeals.org, a green discount e-commerce site has released their list of the top green businesses for 2012. Launched in 2010, GreenDeals works with Green Certified Businesses from the Green Business Network to promote green coupons and product deals. GreenDeals.org has featured over 250 deals in the past 12 months and has put together a list of the top green businesses based on total online sales, social media engagement, product uniqueness, and company mission.

Back To The Roots: Back to the Roots was founded in 2009 by two college friends from UC Berkley and is headquarters in Oakland, CA. Their unique product allows anyone to grow and harvest mushrooms through their unique mushroom garden box. They combine reusable products including used Peets Coffee grounds and recycled packaging to develop their mushroom growing kit.
SeaSnax: SeaSnax is a socially conscious, kid-inspired family business developing and selling nutrient-packed roasted seaweed snacks. SeaSnax are vegan, gluten free and Non-GMO Project verified. They source only the highest quality of seaweed from Korea and contribute 10% of our annual net profit to non-profit organizations committed to making the world a better and gentler place for our children and our earth.
Kishu Charcoal: Kishu is a unique charcoal used by the Japanese for centuries to purify drinking water. Exclusive to the forests of Wakayama, a province in southern Japan, branches of holm oak trees are sustainably harvested then slowly fired in traditional kiln ovens over many days. A single piece lasts up to six months and is completely compostable.
Hydros Bottle: Hydros Bottle was launched in 2009 by a group of college friends from UPENN. The Hydros Bottle is the first BPA Free Water Bottle designed to filter traditional tap water as your fill the bottle. It is designed to eliminate the need for bottled water and can be used at water fountains, kitchen sinks, and with any tap water. Each Hydros Bottle purchase helps fund water projects to help provide clean water for one person in need for an entire year.
Wembe Soap Company: Started in 2009, Wembe makes organic soaps using indigenous and renewable rainforest ingredients, harvested in an ethical and renewable. Every item they make is hand made in their Paraguay workshop with pride and care, fulfilling our commitment to provide meaningful employment. Their line of exotic cleansing bars and bath salts is offered online and select retailers in the United States, Europe and Asia.
From War To Peace: Founded in 2010, From War To Peace creates jewelry by recycling weapons of war into peaceful symbols of beauty and function. From War to Peace recycles metals from disarmed nuclear weapons systems and use it to create a wonderful alloy called Peace Bronze. With it, they cast jewelry, bottle openers, wine stoppers and other art dedicated to creating a more peaceful world. They believe that war is failure, and that peace is triumph. At from war to peace, starting with one weapon at a time, they hope to see a demilitarized world in our lifetime.
About GreenDeals
GreenDeals launched in October 2010 to offer discounts and deals from local and national green businesses approved by Green America. GreenDeals offers daily deals, contests, content, tips, and promotes green living to thousands consumers across the US and Canada.