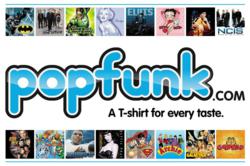 Until May 30, Popfunk is extending this 10% discount code on its entire catalog: popfunkpr10.
(PRWEB) April 30, 2012
Online t-shirt vendor, Popfunk.com recently expanded on its company motto of A T-Shirt for Every Taste by unveiling hundreds of new officially licensed designs from the likes of Universal Studios, Warner Bros., NBC and more. This new product expansion pads Popfunk's already considerable variety of licenses. With t-shirt designs spanning television, movies, music, comic books, and sports, Popfunk leaves no pop culture stone unturned.
Among the new designs from Universal Studios are classic film properties like Back to the Future, Animal House, and Psycho, as well as more recent hit movies like American Pie t-shirts, 40-Year-Old Virgin, and Fast & Furious.
Popfunk's new Warner Bros. offerings include something for the whole family. From t-shirts for the Showtime series Shameless, to brand new tees for the hit talent competition The Voice, all the way to adorable Baby Tweety designs for the little ones.
The new NBC designs feature hilarious Saturday Night Live t-shirts from the long-running comedy show's most classic sketches: Wayne's World to More Cowbell to The Ladies' Man, and so many in between. There are also several new designs for NBC series like Law & Order, Alphas, Up All Night, and Grimm t-shirts, among others.
In addition to those impressive new t-shirt designs, Popfunk also has a wide variety of other new items like Star Trek t-shirts for the 25th anniversary of The Next Generation, and impressive tees from the epic Lord of the Rings Trilogy.
With the long line of additions to an already extensive catalog of pop culture t-shirts, as well as the exciting forthcoming designs for summer (ahem... The Dark Knight Rises anyone?), Popfunk.com is poised to have a huge 2012. And in anticipation of these big things to come, Popfunk is extending this 10% discount code good until May 30 on any tee in its enormous catalog: popfunkpr10.
After all, to boast A T-Shirt for Every Taste... Well, that's a lot of t-shirts!