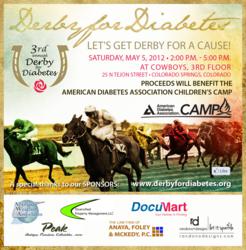 "Derby for Diabetes has become a local derby day favorite", says committee Co-Chair Justin Burns. "We are a smaller community with large hearts and this year's event will surely be a feather in our derby cap."
Colorado Springs, CO (PRWEB) April 30, 2012
This Saturday, May 5th, Churchill Downs will celebrate the 138th Kentucky Derby. Although Colorado Springs is 1100 miles away, a group of young professionals have found a way to celebrate the Derby and make a difference at the same time.
The 3rd annual Derby for Diabetes will be held at Downtown Lanes above Cowboys nightclub this Saturday, May 5th from 2p-5p MST. Derby for Diabetes benefits the American Diabetes Association's Camp Colorado. The camp helps youth with diabetes management, peer support and valuable life skills.
Derby for Diabetes will satisfy belles and gentleman alike offering southern elegance with a touch of derby tradition. Don your best hats, bow ties, dresses and seersuckers to prepare for authentic fun, libations and classy southern fanfare. Prizes will be awarded to the best-dressed, best hat and jockey attire.
"Last year we raised over $3,200.00" said Sage Collins, committee co-chair. "It's very rewarding to benefit a great cause while celebrating a long-lasting American tradition."
"Our goal this year is to double our proceeds and attendance. We've gained a lot of momentum the past couple of years and look forward to seeing this event grow and grow," noted committee member Ryan Skelton.
Attendance to this event includes two drink tickets per person, games, prizes and a lot of fun. Suggested donation for this event is $20 and can be purchased pre-event online or at the door.
For more information about this great event please visit http://www.derbyfordiabetes.org or call 719-237-8043.
Downtown Lanes
25 N Tejon, 3rd Floor
Colorado Springs, CO 80903