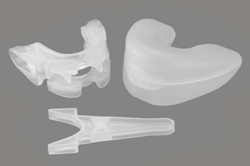 New York, NY (PRWEB) April 30, 2012
VitalSleep is now available to qualified Sleep Centers that want to provide a FDA Cleared mandibular advancement device to their patients for the treatment of snoring.
Phil K. of Connecticut had a problem that millions of Americans experience every night. He snored loudly and it was causing his wife to lose precious quality sleep too.
"I bought it mainly because I bite my tongue while sleeping. I used the retail night guards for a while and the were working. Somehow, my evil sleep control guy figured out a way to still bite my tongue even with the upper only guard. I was in complete despair as I cannot afford a $600 guard from the dentist, and my poor tongue was a mess and I could not sleep. I saw that this had a guard for the upper and lower and hoped it may work, and I also snore pretty badly as well so that would be a double bonus! My wife often ends up in the other room.
So far after 3 nights my wife has not really heard me snore at all and my tongues is bite free and healing well finally!! I will be a long time customer."
VitalSleep is a FDA cleared customizable anti-snoring device that can be purchased for $50. It comes with a 1 year warranty that covers free replacements,if required.
The VitalSleep snoring mouthpiece is made of a BPA free material that molds to the shape of the user's mouth. What make it special is that it can be adjusted to suit the severity of snoring, unlike many other anti-snoring devices found on the market.
VitalSleep places the jaw in a position that maintains an open airway by preventing the lower jaw from falling back and collapsing the airway. This in turn will allow users to inhale more air per breath leading to a better nights sleep. In order to obtain FDA Clearance we had to prove not only that the material is safe, but also that the device effectively achieves its intended purpose.
Paul is not the only one who has solved his snoring problem. Greg M. in Indiana said, "I started snoring in the past year because I was on a bunch of steroids for various medical conditions. I'd gained weight in my face and I was snoring even on my side. I tried nose strips, adjusting my sleeping position, and a host of other things without any success. I went through the procedure and shaped my mouthpiece yesterday, so it was the first night I slept with the device. HOLY COW!!! What a difference one night makes. My wife was so excited because I wasn't snoring laying on my side. She could just hear my breath. I woke up feeling as if I actually got a full nights sleep."
If you are affiliated with a Sleep Center then contact The Snore Reliever Company to find out if you qualify to begin offering the unique product.