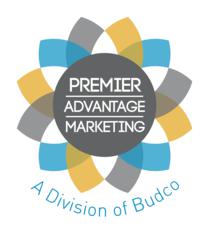 Our customers' direct mail piece is sitting on the desk when the prospect decides to act
Indianapolis, IN (PRWEB) April 30, 2012
Premier Advantage Marketing Customers Increase Direct Mail Marketing
Premier Advantage Marketing mortgage customers are increasing their direct mail marketing with competitive pricing in the mortgage space. This last week, thanks to that competitive pricing, the jumbo loans and 15-year mortgage refinancing mailers were up to an all-season high.
According to the U.S. Mortgage Market Index this growth measured at a 40 percent increase from the year-earlier period for the refinance market. Premier Advantage Marketing's customers see the value in direct mail and are seeing responses long after the mail was delivered. "It's the beauty of direct mail", says Tom Emmerson, VP of Sales and Operations. "We see numbers of leads increase for a company immediately, as well as up to a month after the mailing. Sometimes the prospects need time to get motivated to act, and our customers' direct mail piece is sitting on their desk when they do", continues Emmerson.
About Premier Advantage Marketing
Premier Advantage Marketing, a division of Budco, leads the way in managing and executing strategic direct mail marketing campaigns. With more than 30 years of experience in direct mail, they have a powerful understanding of the messages that impact consumers. The customer service, production and creative teams of professionals that make up Premier Advantage Marketing lead the way in managing and executing successful direct mail marketing campaigns. With dedication to implementation and attention to detail, projects become successes as they move from development to mailbox.
Premier Advantage Marketing clients get the resources of a big corporation with the fast turnaround time and one-on-one attention of a small business. Whether the goal is to sell more products, build stronger relationships, or feature new services, direct mail helps achieve success. Learn more about direct mail and marketing strategies at Premier's direct marketing blog at directmailmarketing101.com.