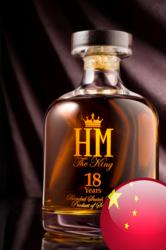 CDL announces new insights into the market conditions for scotch in China & Hong Kong.
Hong Kong, China (PRWEB) April 30, 2012
HM the King scotch whiskey has been expanding its reach across China for several years. As China Distribution Ltd. (CDL), one of the premier alcohol and beverage distribution companies in Asia, has helped this brand to grow, the company has decided to announce several insights into the market conditions for scotch in China.
CDL staff has more than 25 years of experience handling spirits, including rum, cognac, vodka, and scotch in China.
Within the last several years, a rapid shift towards dark liquors – and their subsequent growth in sales – has sparked international interest in scotch in China.
HM the King Scotch Whiskey is a brand of scotch which has experienced beneficial growth as the market for Scotch in China has also grown.
The consumption of Scotch in China has been increasing rapidly over the past 5 years, and industry experts now predict demand to out-pace supply within the next 5-10 years. In fact, scotch has even become a popular gift for Chinese New Year, according to Claude Canellas of Reuters.
The number of bottles sold rose by more than 5% percent globally, with China leading the way, posting growth of over 25% in 2011. Furthermore, the Far East accounted for more than one-fouth of all demand in the category and looks as though it will be the world's largest market for the foreseeable future.
Chinese consumers have accepted the taste profiles for both the higher end single malts, and the more widely available blends. Both subcategories of scotch continue to show strong positive growth in China, especially in the South.
Scotch is primarily enjoyed in the Southern Regions of China, where it Chinese people have become increasingly aware of brand and quality.
China Distribution Ltd. represents some of the best scotch in China. Several years ago, HM the King Scotch was virtually unknown in Asia. It is now served at the best 5 star hotels, the hottest nightclubs, and trendiest bars in China and Hong Kong.