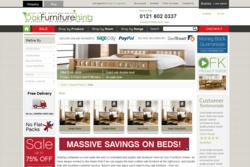 Our customers will get the best prices available in our industry, the best quality products and without doubt, the best customer services
(PRWEB UK) 30 April 2012
After weeks of anticipation, OakFurnitureKing.co.uk today announced the launch of its brand new ecommerce store. Built on the ecommerce platform Magento, the oak furniture website can boast to have a beautiful design built with conversion and usability and conversion in mind along with one of the industry's most functional websites.
As a new competitor into the online furniture market place, Oak Furniture King is hopeful that it will be the ease of purchase which will set them apart from the existing competition. Owner Kahled Ullah expressed his approval of the new site in this morning's press conference. "It is very exciting for OakFurnitureKing.co.uk to launch our site today. We have employed one of the UK's most experienced Digital Marketing Consultant to guide us in our journey to becoming the uk's leading online retailer of Oak Furniture."
OakFurnitureKing.co.uk has a week of special promotions and discounts lined up for new customers, many of the promotions will be initially announced on Twitter closely followed by Facebook. It is the aim of the company to ensure its customer base feels 'loved'. Khaled Ullah explained, "Our customers will get the best prices available in our industry, the best quality products and without doubt, the best customer services. Our customers are the heart of our business; we want them to feel loved and appreciated. So many big bands treat customers badly; it's our number one mission to keep our customers happy."
Only hours into the launch of the site, OakFurnitureKing.co.uk have begun an aggressive Google adwords campaign to promote the new site via the search giant, Google. The company aims to make an impact of the organic competition over the next few months.
OakFurnitureKing.co.uk is a UK Independent retailer located in the West Midlands, United Kingdom. Oak Furniture King.co.uk is a specialist in 100% solid hardwood furniture for the consumer market.